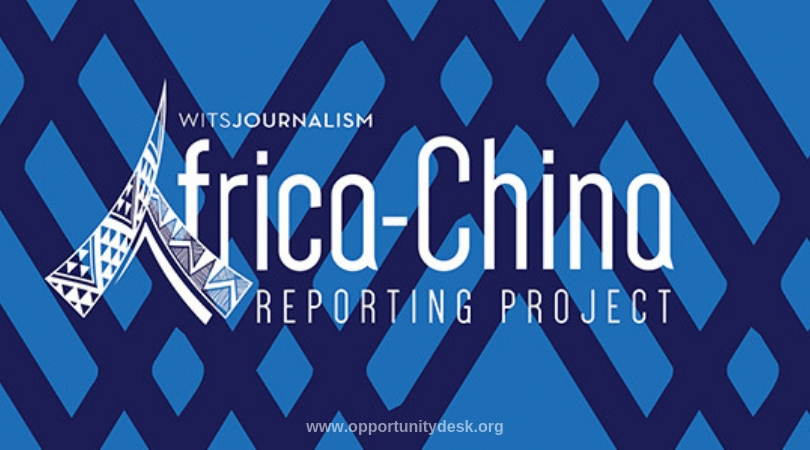 Wits Journalism Africa-China Reporting Project Grants 2019 (Up to US$3,000)
Deadline: April 14, 2019
The Africa-China Reporting Project at Wits Journalism and partner China House are inviting journalists to submit proposals for two opportunities: Africa-China audio/visual reporting grants or investigative reporting grants.
Through this call for both audio/visual and investigative reporting grants the Project seeks to promote dynamic storytelling and reporting of Africa-China investigations focusing on specific issues that are in the public interest and have a relevance to China's and Chinese interests' roles, activities and impact in Africa.
The Project encourages journalists to submit proposals that aim to bring to light fresh and nuanced investigations with new findings about complex Africa-China relations, and if possible that involves other partners and institutions who can collaborate on and expand the investigations (the Project can potentially assist applicants to form partnerships with investigating partners in Asia and elsewhere). Of importance is for applicants to present fresh and important ideas and a feasible plan to carry them out.
Grant
Eligibility
The Project is seeking applications from journalists for two different types of reporting grants:
Audio/visual reporting grants: For audio or video reporting projects by journalists established at media houses and preferably with the necessary equipment readily available, as the grant will likely not be sufficient to cover hiring of equipment and full production costs
Investigative reporting grants: For print and/or online investigations by journalists working at media houses as well as freelance journalists. Preference will be given to applicants able to include established publishing platforms and the involvement of investigating or other partners in their proposals
Application
Please address an email with the heading APPLICATION: AUDIO-VISUAL REPORTING GRANT or APPLICATION: INVESTIGATIVE REPORTING GRANT and containing the following items (in attachments in MS Word or PDF formats) to [email protected] by no later than 14 April:
Applicant CV, and list of previous Africa-China reporting and/or previous investigative or audio/visual journalism reporting
Proposal for story to be investigated, with a clear proposed headline at the start and a brief report of WHAT will be investigated and HOW, including a detailed methodology for how and where the investigation will be undertaken
Audio/visual reporting proposals should include a draft production storyboard to support the methodology
An indication of where the investigation will be published or aired, and which partners if any will be used or required and how this will expand the investigation
A detailed budget with specific line items totalling as much as US$3,000
For more information, visit Africa-China Reporting Project.