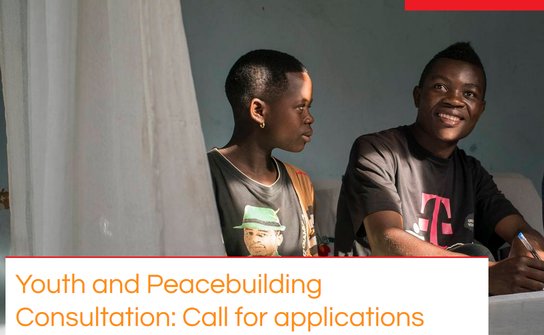 Call for Applications: Peace Direct/UNOY Youth and Peacebuilding Consultation 2019
Deadline: March 31, 2019
Call for applications for the Peace Direct/UNOY Youth and Peacebuilding Consultation 2019 is now open. The Peace Direct and United Network of Young Peacebuilders (UNOY) are convening an online consultation to broaden the conversation on harnessing the power of youth in peacebuilding processes, ensuring their meaningful participation and establishing avenues for young people to proactively engage in peacebuilding efforts.
The consultation scheduled for April 8-10, 2019 will be a global conversation between practitioners and academics to explore some of the questions surrounding youth-led peacebuilding, such as:
What does youth-led peacebuilding actually look like?
How do we understand the relationship between youth and peacebuilding in different contexts?
What are the key enabling factors for successful youth-led peacebuilding?
What does it mean in practice to integrate youth participation across all peacebuilding areas?
Aim of the Consultation
The aim of the consultation is to provide participants an opportunity for:
Shared learning amongst experts from a range of backgrounds, including young peacebuilders, local experts, practitioners, researchers, academics and civil society organisations.
Drawing out the experiences, analysis, and recommendations of local youth-led peacebuilding organisations on the role of youth in peacebuilding.
Furthering the understanding of the relationship between youth and peacebuilding.
Contributing to the discussions, policies, and practice on youth-led peacebuilding of international stakeholders, including at the UN-level.
In collaboration with a group of participants, Peace Direct will produce a report for publication, intended to share knowledge from the consultation.
Benefits
This is a unique opportunity for you to participate in a collaborative piece of research and project development. You will:
Be given the opportunity to contribute to discussions on youth-led peacebuilding.
Share experiences and youth-led peacebuilding strategies and learn about successful strategies from other experts and practitioners in the peacebuilding sector.
Receive a report at the end of the consultation which you can use in your own research and development work. The report will include a list of participants and affiliated organisations of those who have provided consent.
Eligibility
Open to young peacebuilders around the world;
Applicants will be expected to log in and join the discussion at least once on each day, or more often if you choose to do so. You will be expected to read the introductory reflection pieces, questions, as well as the comments of other participants, and then contribute by posting comments, responses, ideas, and examples.
Application
For more information, visit Youth and Peacebuilding Consultation.