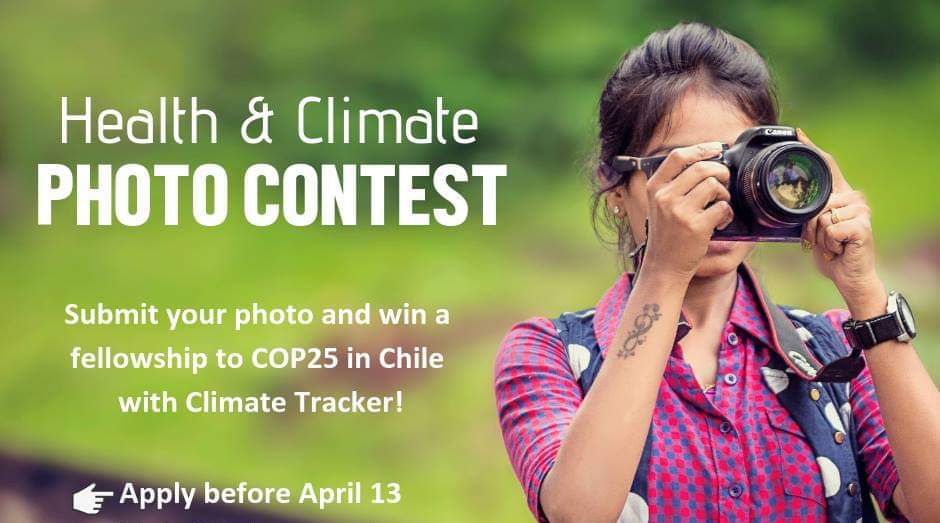 Climate Tracker Health and Climate Photo Contest 2019 (Win a fully-funded fellowship to Chile for COP25)
Deadline: April 13, 2019
Are you passionate about photography? The Climate Tracker Photo Contest 2019 is open for entries. This year, in partnership with the World Health Organization, Climate Tracker is launching an exciting photography competition to highlight the impacts of climate change on human health.
Prizes
8 winners will be selected to produce a photostory (30 – 35 photographs) about the impacts of climate change on health.
After completing the photoshoots, the 8 winners will receive a 200 USD cash prize.
These photostories will be featured in an eBook that highlights the work of the photographers.
Following the 8 photostories, 1 winner will receive a fully-funded fellowship to attend the COP25 in Chile on December 2019 with the with Climate Tracker team!
Eligibility
Everybody is welcome to participate!
They are looking for talented photographers from around the world who can show issues related to health, climate and development through their photographs.
They will accept applicants between 18 and 30 years old. However, you are encouraged to apply anyway if you are above the age limit.
Criteria
The rating system focuses on 5 main qualities:
Photographic composition
Originality
Expression of theme
Clarity and quality of the submission
Social Impact
Application
Are you passionate about photography and climate change? Show them what you got. To apply to the competition, you will have to complete your application through their platform which should include:
A photograph or a photostory (up to 10 photos) that shows the challenges and/or the solution to issues related to health and climate change. By completing your submission, you confirm that you own the photo(s) and you agree to transfer the copyright to the World Health Organization for non-commercial uses. Your work may be shared on WHO's platforms including your name as the author.
A 200-word paragraph with the idea for the photostory you will create if you are among the 8 winners. You can choose one of the main 5 themes related to health and climate change.

Air Pollution: you could show the pollution from public transportation in a cosmopolitan city, for example.
Vector-borne diseases: diseases such as malaria, dengue, etc., which affect populations around the world.
Climate change-induced disasters: how are the communities being affected by these climate-induced disasters? What type of adaptation measures have they started?
Food security: you could take a look at issues related to malnutrition, agricultural practices, and others.
Migration: you can show how movements of populations due to environmental issues are also exposed to diseases.
For more information, visit Climate Tracker.