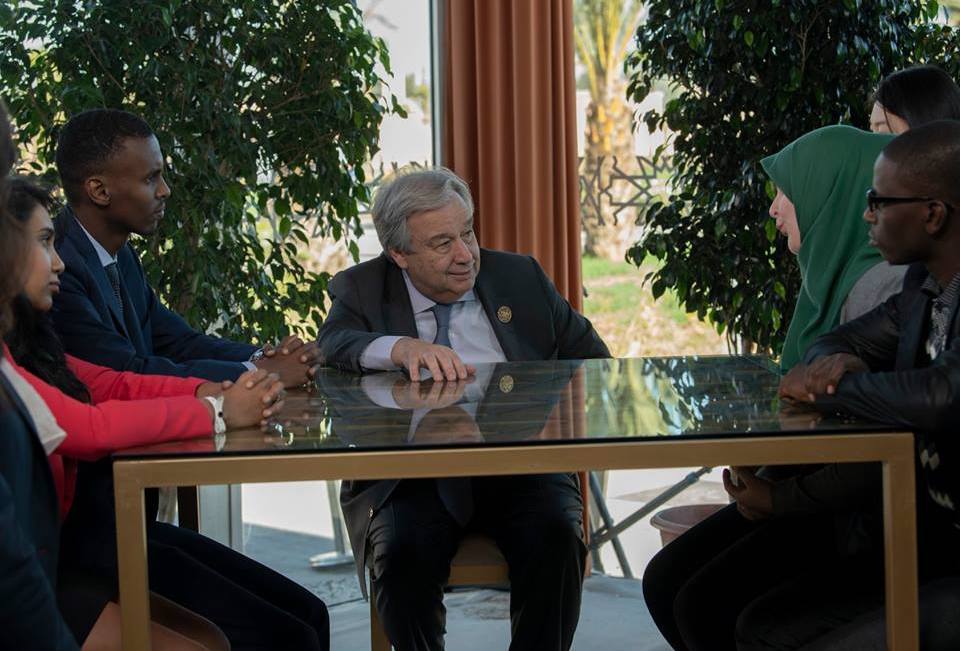 Apply to the UN MGCY Migration Working Group Coordination team
Deadline: March 31, 2019
The United Nations Major Group for Children and Youth (UN MGCY) is accepting applications for Migration Working Group Coordination team. Do you care about safe migration? Do you dream about a world with better rights for migrants? Are you 30 years or below? Apply to the UN MGCY Migration Working Group Coordination team.
The areas of the UN MGCY's work are Policy & Advocacy, Capacity Building, Youth Action, and Knowledge (assessment, generation, and use).
Roles Within UN MGCY Migration Working Group Co-ordination Team
Focal Points are mandated to facilitate and coordinate the collective engagement, participation and activities of the UN MGCY in its scope of work as it relates to their primary and associated processes and avenues of engagement.
Global Focal Point (GFP) (1 position): 
GFPs are responsible for the overall co-ordination of the working group. Their roles include:

Managing the full work portfolio of the working group

Manage the co-ordination of Regional Focal Points and aid the facilitation of them fufiling their roles and duties

Ensuring engagement in the MGCY wider network and coordination

Ensure regular contact with the Migration WG mailing list
Regional Focal Points (2 Positions Per Region)
The Regional Focal Points (RFPs) are primarily responsible in facilitating the representation of their regions within policy and advocacy. They are in charge of ensuring the global work be transferred to their respective regions, building connections and capacity, which ultimately feeds back into the global network; all with a focus on migration.
The body of the regional work can include social campaigns, capacity-building workshops, policy advocacy, working with a wide range of actors – including NGOs, universities, or governments. The workload and spread is lead by the capabilities, and capacity, of the RFPs.
The regions are as follows:
Central and Southeast Asia

Europe

Middle East and North Africa

North America

South America

South and Eastern Africa

West and Central Africa
RFP's must ensure they are present within minimum ⅔ of the WG co-ordination meetings. Though the workload will vary during the year, they must expect a minimum workload of four hours per week – on average – throughout the year.
GFMD/Action Committee Focal Point (1 Position)
This individual's role will be to be the main focal person between the working group and the GFMD/Action Committee (both areas for civil society engagement within the UN system). Their role will include attending respective meetings for each committee, liaising with civil society and governmental actors from respective workstream for possible areas of collaboration with the working group – especially in relation to the Global Youth Forum.
Youth Forum Chair (1 Position)
This individual will be responsible for the overall organisation and co-ordination of the Youth Forum. They will mainly liaise with GFP's and the GFMD Focal Point, but also with the respective RFP's when required. They will be in charge of opening the call, selection (along with GFP's and OP's), induction, and management of the Youth Forum Committee. The next Global Youth Forum is due to be held in November 2019 in Equador and so this individual will need to ensure to be available during that period. Please also note that this role's intensity will increase throughout the year.
Please note that if high calibre applications are not received, the given role in question may be left unfilled; applications may then be re-open.
Please note, GFP's hold a 2-year mandate, while all other focal points hold a 1-year mandate.
Eligibility
Must be below the age of 30 to adhere to the UN definition of 'youth'
Be fluent in both spoken and written English
Must be a member of the youth-led entity who is putting forward your candidature. Please note that the youth entity must also be a memeber of MGCY (link to join at the top of this form if needed).
Application
First and foremost, please sign up to the UN MGCY, before applying.
If you are not a member entity, or are a member entity who has not filled this new form, then they will not be able to process this application.
For more information, visit UN MGCY.