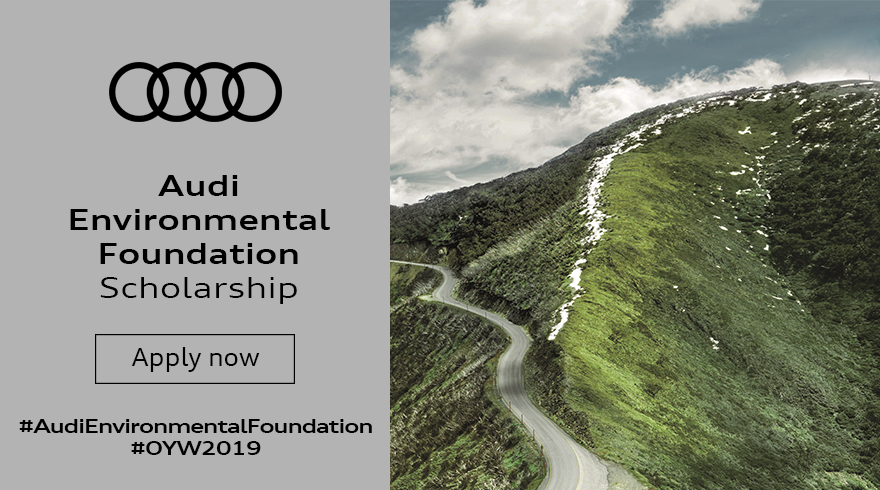 Audi Environmental Foundation Scholarship to attend One Young World Summit 2019 in London, UK (Fully-funded)
Deadline: May 3, 2019
Applications are open for the Audi Environmental Foundation Scholarship 2019. Audi is collaborating with One Young World to offer scholarships to 15 inspiring young leaders to attend this year's One Young World Summit 2019 in London, United Kingdom.
Are you eager to join an international discussion of issues like sustainability and the environment? Would you like to build an international network and gain insight into how other people think? Then apply now as an Audi Scholar for the One Young World Summit 2019!
In addition to participating in the One Young World Summit, Audi Scholars will join an exclusive pre-event where they will connect with fellow innovators from the programme as well as experts from the Audi Environmental Foundation.
About
The Audi Environmental Foundation actively supports research into new technologies and scientific methods for a liveable future. Its stated goal is to make a contribution to environmental protection and to create and promote ways of behaving sustainably. The Foundation focuses in particular on promoting and developing environmentally compatible technologies, measures for environmental education and protecting the natural necessities of life for humans, animals and plants. It was established in 2009 by AUDI AG as a 100-percent subsidiary and is part of the company's social and environmental commitment.
Benefits
Access to the One Young World Summit 2019 in London, United Kingdom.
The cost of travel to and from London (economy flight).
Hotel accommodation London between 20 and 25 (inclusive) October.
Participation at the pre-event by Audi AG and the Audi Environmental Foundation on 21 October
Catering which includes breakfast, lunch and dinner
Transport between the pre-event by Audi, Summit accommodation and the Summit venue.
Summit hand-outs and support materials.
Eligibility
If you are aged between 18 and 30 years, work for or are involved with a non-governmental organisation, social enterprise, community based organisation, or you are an individual making an impact on environmental topics, then this scholarship is for you.
Selection Criteria
Most delegates are between the age of 18 and 30. The One Young World team will consider applications from those who are older than 30, pending demonstration of appropriate personal impact, initiative, and willingness to engage. They are not able to accept applications from those who will be aged under 18 at the time of the Summit.
Candidates must demonstrate:

A passion for environmental issues
Impact and capacity for innovation in this field
Leadership
Application
For more information, visit One Young World.