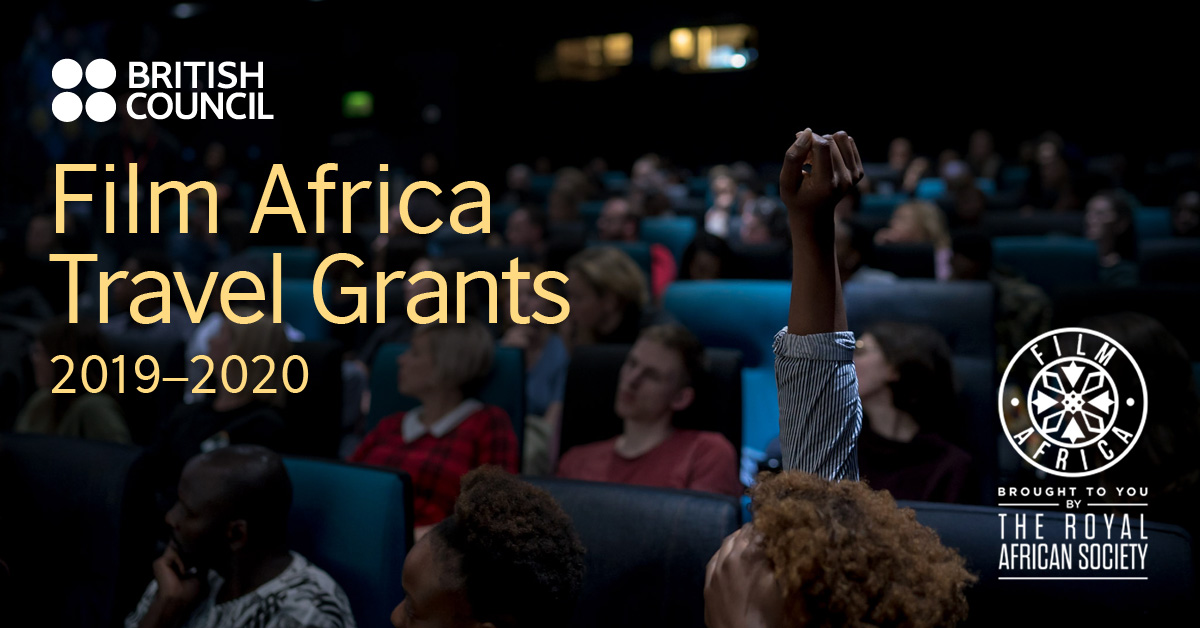 Royal African Society/British Council Film Africa Travel Grants 2019-2020 (Up to £2,500)
Deadline: On Rolling Basis
The Royal African Society, in partnership with the British Council, is pleased to offer African filmmakers the opportunity to apply for funding to attend premier UK film festivals where their work has been invited to screen in 2019 and 2020.
The Film Africa Travel Grants 2019-2020 is a pilot scheme primarily aimed at filmmakers aged 18-35 working in short form film, as well as those producing virtual reality, immersive storytelling experiences and installations. However, first and second feature directors will also be considered.
The purpose of this funding scheme is to enable African filmmakers to present their work in the UK, develop new contact networks and reach new audiences, whilst increasing the exposure of contemporary film and film talent from the African continent in the UK.
Objective
Film Africa aims to:
Offer a platform for African and diaspora filmmakers to present their work to new audiences in London and other parts of the UK.
Offer culturally diverse London and UK audiences with increased film choice.
Promote a better understanding of contemporary Africa by stimulating debate around the socio-economic and political issues raised in the films screened.
Support African filmmaking through festival awards and other opportunities and initiatives.
Build links with other film festivals in the UK and beyond to promote the mainstreaming of African cinema in the UK and internationally.
Create new opportunities for exhibition, distribution and networking through a range of bespoke events for filmmakers and industry professionals.
Grant
Successful applicants may be awarded up to £2,500 to cover international travel (including visas), accommodation and subsistence costs for their visit to the UK.
Eligibility
Applicants must have a project selected by at least one of the 8 festivals on the 'Key Festivals List'
In line with the British Council's Arts Strategy in Africa, priority will be given to filmmakers aged 18-35
At the time of application, applicants must be citizens of an African country (applicable to the 54 countries in the continent) and have been resident on the continent for a minimum of two consecutive years. Applicants will also need to demonstrate that they have been working in/committed to the local film sector during this period;
The priority and focus of this scheme is on short form work (length up to 30 minutes), including virtual reality, immersive storytelling experiences and installations. However, first and second features will also be considered;
At the time of application, applicants must declare any other sources of funding they are receiving for any given festival opportunity;
A maximum of two applications per film will be accepted during this pilot year. In the cases where more than one application is submitted, they encourage applicants to put forward different names from the cast/crew team, to benefit from the opportunity.
Successful applicants will be required to commit to taking part in an evaluation procedure, which entails completing an online survey following their UK festival visit.
Application
Applicants will be required to complete an online application form and provide evidence of festival selection. Applications can be made by a director, producer or writer and must include the following:
Film details (including synopsis, key personnel, tech information, cast, etc.)
Applicant CV / filmography
Written evidence of acceptance into the UK festival the applicant has been invited to attend
A travel and accommodation budget, which must include any other external funding secured for the festival attendance
A statement on what the applicant hopes to gain from taking part in the relevant UK festival
For more information, visit Film Africa Travel Grants.