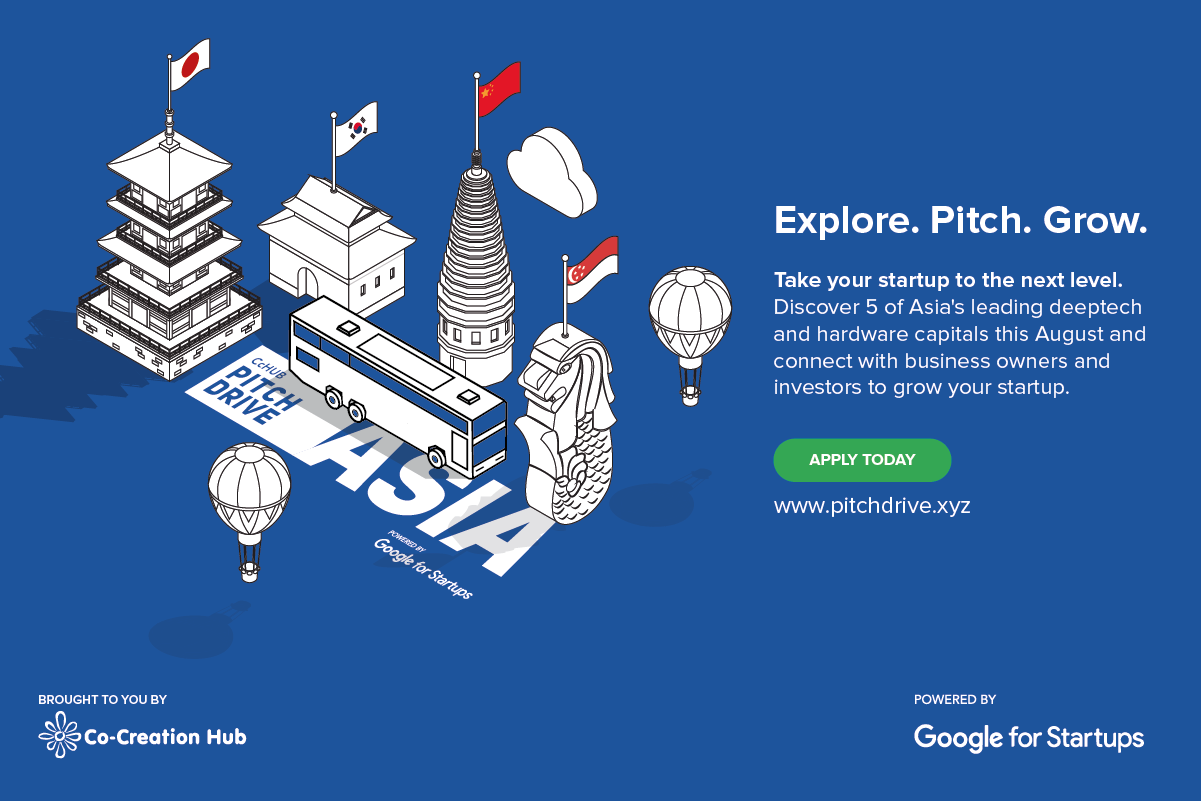 CcHUB/Google for Startups PitchDrive Tour for African Deep Tech Startups 2019
Deadline: May 20, 2019
Do you run a deep tech (AI, ML, Mixed reality, etc) or hardware based startup? Apply for the CcHUB/Google for Startups PitchDrive Tour for African Deep Tech Startups 2019.
Co-creation Hub (CcHUB), the leading technology innovation centre in Nigeria and Google for Startups, have announced the launch of PitchDrive II, a three week, five-city Asian tech tour across Singapore, Shenzhen, Hong Kong, Seoul, and Tokyo. This partnership will bring 10 elite African hardware and advanced technology startups together to discover and engage Asian suppliers and manufacturing partners to help grow their businesses, explore funding opportunities and share learnings from the Asian technology market.
Starting in Rwanda on August 15, 2019, the cohort will first benefit from a 2-day bootcamp at the Kigali-based CcHUB Design Lab, sponsored by the Ministry of ICT and Innovation Rwanda. Following the bootcamp, startups will visit Singapore, China, South Korea and conclude the tour in Japan with a pitch event in partnership with JETRO, during the Tokyo International Conference of Africa's Development (TICAD 2019) event.
This is the first tour of its kind aimed at creating international partnerships with Asian companies and budding African tech companies. The PitchDrive team sees a strong opportunity for African startups, particularly those focused on deep technology and hardware to benefit from the vibrant tech ecosystem in Asia.
Benefits
The focus of PitchDrive II is to facilitate Africa-Asia collaborations to strengthen deep technology companies in Africa by creating a platform for startups to:
Take key learnings from the Asian technology market and apply them locally to improve their businesses
Discover and engage suppliers or manufacturing partners to strengthen their businesses
Explore funding opportunities
Eligibility
Open to African deep tech or hardware-based startups who are looking to forge international partnerships with Asian manufacturing or supply companies and raise additional funding.
Those looking to apply must have a legal, registered enterprise;
Be able to demonstrate a minimum of 12 months revenue-generating operations;
Must be based in Africa;
Ideally, startups will also have a strong management team who have worked together for at least 12 months, capable of demonstrating growth over that time period;
CEO/Founders must also be available for a three-week period from August 15 till August 31.
Application
For more information, visit PitchDrive Tour.