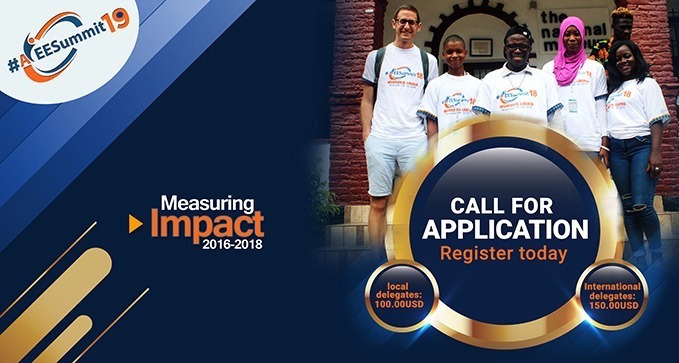 Register to attend the Annual Youth Education and Empowerment Summit 2019 – Monrovia, Liberia
Deadline: August 30, 2019
Applications are open for the Annual Youth Education and Empowerment Summit 2019. The Youth Coalition for Education Liberia (YOCEL) under the Leadership of Beyan Flomo Pewee is convening the fourth Annual Youth Education and Empowerment Summit from November 17-22  in Monrovia, Liberia.
The Annual Youth Education & Empowerment Summit is an international youth focused summit on education, participation, engagement and empowerment endorsed by the Government of Liberia, recognizing it as the premier gathering for youth on the continent. The summit has been running since 2016 and keeps getting better and promising each other year. It serves as a platform that brings together hundreds of young leaders, edupreneurs, entrepreneurs and innovators from across Africa and the rest of the world. This provides an opportunity for youth of different continents or regions to collaborate, share best practices and challenge their thinking during interactive plenary sessions and debates.
This year, AYEESummit19 which would be held in Monrovia, Liberia in partnership with the Government of Liberia aimed at reflecting on the issues and recommendations made during previous summit, measuring the impact and accessing the level of change the Summit has created over the past three years and ensuring that all relevant stakeholders are actively engaged and either committing or implementing the recommendations.
Registration Fees
Local Delegates(Liberian) – $100.00USD

International Delegates – $150.00USD

Late Registration – $200.00USD
Benefits:
Accommodation, Feeding and Ground Transportation within Monrovia will be covered by the organizers (International delegates will have to undertake the cost of travelling to and from Monrovia, Liberia)

Access to all Summit sessions and networking events including Committee Work, learning hubs, General Congress, Brain-Date, Plenary, Culture fiesta etc

An opportunity to contribute to an action oriented youth driven approach that clearly articulate  priorities of young people looking into previous recommendations and issues discussed

Access to opportunities presented by Programme Partners or Sponsors

Conference materials including customized t-shirt, folder, notepad, pen, and wristband

Certificate of Participation & A chance to become an AYEE Awardee
Summit Format:
During the Summit, delegates will have the chance participate in the following programmes put together by the organizers;
Networking Activities: 

They have organized Both Welcome and Closing Dinners as a way of allowing delegates to get to know each other before the actual summit and also after the summit. These dinners have always been graced by high profiled persons including minister, Ambassadors, Parliamentarian etc and the bond them delegates create among themselves has been undisputable.

Plenary Sessions: 

Their Plenary sessions feature delegates as panelist or moderate been pair with experts in various field to discuss issues concern with the Summit theme and engage into questions and answers. Some other speakers deliver speeches on their personal lives or issues affecting young people relative to the Summit theme to motivate/inspire young people to aspire and make impact.

Brain-Date:

They are thrilled to partner with e180 based in Canada to bring to the Annual Youth Education & Empowerment Summit for the first time "BRAIN-DATE". Braindates are about sharing knowledge. They are one-on-one or group conversations that you book with other participants while you're at an event. Their web app, Braindate, helps you find the right people on its crowd-sourced knowledge market. Then, you meet face-to-face onsite, hosted by their Learning Concierges at the Braindate Lounge.

Learning Hub: In all that we do we aim to enhance the leadership, accountability and social entrepreneurship skills of young people .The hub is based on the idea that when learners are co-creators of their learning environments, they become active participants invested as stakeholders in the progress of their communities.
Field Visit/Committee Work: All delegates at AYEE Summit 2019 Monrovia will be placed into a committee which has a direct youth focus – education, entrepreneurship, innovation, women empowerment etc. These committees will discuss, carry out field research, and develop a resolution about how to address the challenges in that area for youth development and empowerment.
General Congress: The General Congress is where all delegates will meet to discuss/debate the resolutions, relate the issues to the actual realities and adopt a final resolution that the Summit Committee will use for post-summit engagements with policy makers, sponsors and other stakeholders.
Eligibility
Delegates age range( 18-35 years), Observer(36-above)

Make Full payment of the registration fees

Able to fund your Travel to and from Monrovia, Liberia

Demonstrate experience and strong capacity in education, entrepreneurship, community service and youth development in general.

Adherence to YOCEL Child & Youth Safeguarding Policies( Duly Completed form Submitted before departure)

Ability to attend the Summit in its entirety from 17-22 November 2019 and be fluent in both oral and written English (all elements of the program will be conducted in English)
Application
Apply Here: www.ayeesummit.org
For more information, visit AYEESummit.