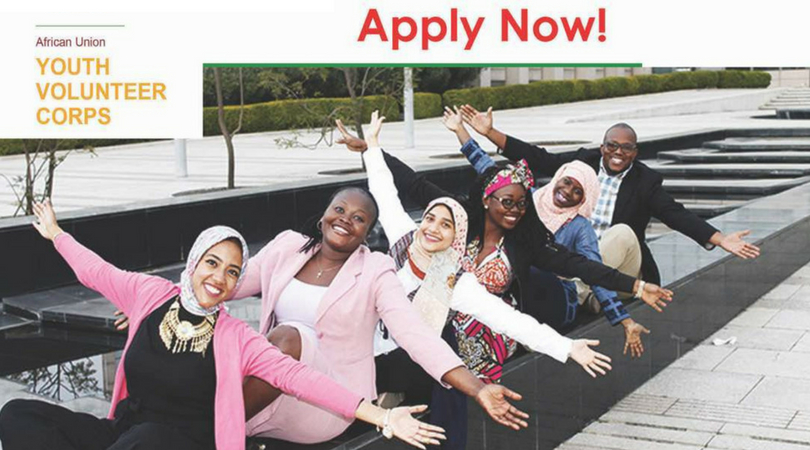 African Union Youth Volunteer Corps 2019 – 10th Cohort (Fully-funded)
Deadline: June 30, 2019
The African Union Youth Volunteer Corps is now open for applications. AU-YVC is a continental development program that recruits and works with youth volunteers, to work in all 54 countries across the African Union.
AU-YVC promotes volunteering to deepen the status of young people in Africa as key participants in the delivery of Africa's human development targets and goals. It brings people together to share skills, knowledge, creativity and learning to build a more integrated Continent and by implication strengthen Africa's relevance in the globalized world. The concept is in line with the African Youth Charter as well as the Decision of AU Head of States and Governments in Assembly/AU/Dec.274 (XVI) January 2010, to set up a continental Volunteer initiative.
AU-YVC was officially launched on the 3rd of December 2010 in Abuja, Nigeria, in the presence of H.E. President of the Federal Republic of Nigeria, Ministers of Youth from across the AU, high level AU representatives, Partners and other Volunteer Organizations and Africa's Youth at large.
Objectives of the AU-YVC 
Engage Africa's Youth in the Continent's development through meaningful youth participation by providing Service for their Continent;
Provide opportunities to Young Africans to serve and gain crucial professional experience, soft skills, social competence, international exposure and leadership skills;
Promote shared values and Pan-Africanism among the upcoming generation.
Areas of Focus
On the field, AU Youth Volunteers would serve primarily in the following fields:
Education
Health and HIV/ AIDS
Peace and Security
Information and Communications Technology
Business and Youth Entrepreneurship
Agriculture and Environment
Typical Environment of Service
AU-YVC volunteer are deployed strictly in non for profit settings where their impact and contributions can fill the gap for much needed skilled man power. This would typically be:
Rural Community Schools
Hospitals and Health Centers
Post Conflict Setting
International Organizations
Government Offices/ Ministries
How It Works
Screening: Volunteer Applications and Volunteer Requests would now be screened for completeness through a vigorous and transparent process. Candidates whose application was not convincing, would be eliminated and notified. Volunteers are permitted to reapply a second time.
Matching: Applications of nominated volunteer candidates are matched with available vacancies according to the criteria specified by the requesting organization.
Selection: The AU-YVC would send multiple CVs (4-8) of matched volunteers to requesting organization to make final selection.
Volunteer Training: Prior to their deployment volunteers would be trained for a period of 2 to 3 weeks by the AU-YVC unit to enhance volunteers professional, interpersonal and life skills. The training aims to prepare volunteers for their country of deployment and/or enhance their capacity.
Deployment: selected volunteers would now sign a tri-partite agreement with their host organization and the AUC which shall guide the terms of deployment.
Progress Assessment: volunteers are expected to provide regular reports on their activities and address challenges to the AU-YVC unit.
Benefits
Living Condition: Your living condition may vary extremely between rural and urban communities. Availability of running water, internet and electricity in your house or even a small rural hut . However AU-YVC ensures minimal standards for modest living conditions enabling a healthy lifestyle with access to clean water, sanitation and health care.
Living Expense: AU-YVC would provide you with a living allowance that would enable you cover all your expenses during your deployment and provide you with a medical insurance and a plane ticket to country of deployment and back home. The monthly allowance could vary greatly from country to country and within a given country itself. The guiding principle remains however, whereas volunteers are not expected to make any financial gains, they shall at the same time not incur any financial losses
Eligibility
Applicants have to meet the following criteria:
Citizen of AU Member State or African Diaspora;
Aged between 18 and 35 years;
Have at least a post-secondary education certified training and qualifications, from the equivalent of a Bachelor's degree
Available to dedicate 12 (twelve) months for volunteer work;
Willing to live and work in another AU Member State;
Be proficient in at least one official AU language (Arabic, English, French, Portuguese);
Have at least one year verifiable experience as a volunteer and or one year of professional work experience
The Ideal Candidate
Is change driven and has passion for Africa's development;
Embraces Pan-Africanist ideals of solidarity, peace and unity in diversity;
Self-motivated and has interest in volunteer work;
Appreciates and respects other languages, cultures, religious and social norms;
Has great deal of leadership skills and can guide others;
Remains productive under pressure and in challenging environments;
Has a great deal of social networking skills;
Criteria
Once an application is received it would be accessed against their Evaluation Matrix based on the following criteria:
Type of qualification acquired and grades received (Bachelors-, Masters Degree, PHD);
Number and Type of languages spoken (with primary focus on Arabic, English, French, Portuguese Swahili and possible combinations);
Type of volunteer and work experience: more weight would be given to community outreach and working with others in teams;
Comparative Advantage I: Why does one want to become an AU-YV
Comparative Advantage II: What makes an applicant a good candidate for placement?
Comparative Advantage III: Previous Volunteer Experience (its significance to the vacancy)
Each application is scored based on the requirements of the vacancy. This means the same application may score different for different vacancies.
Final Selection: After receiving the evaluation matrix and the CVs of applicants, requesting organizations are given time to select their preferred candidate.
Selected candidates are now cleared for training.
Application
To submit your application:
Create an account on the http://aucareers.org/ portal (instructions and video tutorial available)
Aspiring volunteers who fulfill all requirements should fill out the online application form and upload their CV.
Organizations wishing to deploy youth volunteers are required to fill out the online request form . Alternatively, organizations can send their request to [email protected].
Apply and become African Union Youth Volunteer (AU-YV).
For more information, visit African Union AU-YVC.