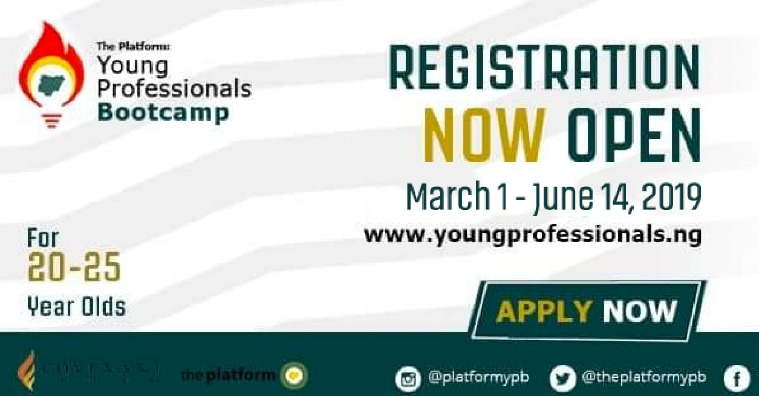 The Platform: Young Professionals Bootcamp 2019 for Nigerians
Deadline: June 14, 2019
Applications are open for The Platform Young Professionals Bootcamp (YPB). This is a free 5-day in-residence program for high potential 20-25 year olds to learn world class practical training, inspire innovation, drive success in the marketplace and ultimately lead to transformation of the Nigerian economy. YPB is a new initiative of The Platform Nigeria powered by Covenant Christian Centre.
This year's edition has been streamlined into 3 key sectors:
Entrepreneurship: This stream is designed to help aspiring entrepreneurs validate their ideas and understand steps to establish and grow their business
Creative Industry: As one of the fastest growing & diverse employment sectors, this curriculum will help participants acquire the knowledge + skills necessary to become successful leaders in Entertainment, Media & the Arts
Corporate Career: This stream is designed to highlight and equip participants with the key attributes required to build a successful corporate career.
The Booycamp dates are from: September 4th – September 8th, 2019. Venue will be communicated to successful applicants.
Benefits
200 participants will be selected from a pool of numerous applications to attend a 5 day intensive professional bootcamp.
Opportunities like mentoring, internships an investment seed funding opportunities will be accessible to the most promising participants.
YPB is absolutely and completely FREE. Accommodation will also be made available for selected applicants. Participants outside Lagos will need to take care of their transportation to the venue.
Eligibility
Open to graduates and undergraduates from across Nigeria
You must be between 20-25 years by 

September 2019

.
You should have a passion to succeed.
Application
All enquiries could be directed to the email: [email protected].
For more information, visit The Platform YPP.