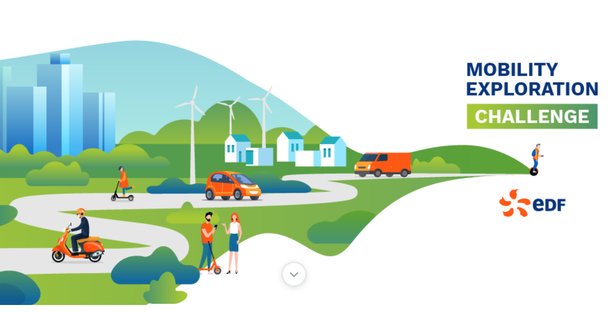 EDF Pulse Explorer Mobility Exploration Challenge 2019
Deadline: August 30, 2019
Applications are open for the EDF Pulse Explorer Mobility Exploration Challenge 2019. EDF – leader in low-carbon electricity – through its exploration initiative EDF Pulse Explorer, is calling on you to support a revolution by coming up with solutions to tackle the issues surrounding charging new electric vehicles
Choose one of the four topics to submit your best idea:
Micro-mobility: Electric micro-mobility solutions (electric hoverboards, scooters, bikes, etc.) are experiencing rapid expansion in towns and cities. This boom is resulting in new issues both for cities and for users: these vehicles aren't currently covered by legislation, they are often parked almost at random, causing an obstruction, new precarious roles are emerging to help charge these vehicles, and more. Propose sustainable micro-mobility charging solutions that are socially acceptable, economically viable, and environmentally friendly.
Location of charging stations: In response to the development of electric vehicles, charging infrastructure is being rolled out – but it's expensive and it can be difficult to make it profitable. To achieve optimum profitability, this infrastructure must be located in places where there is significant user need for charging. How can you identify, locate and anticipate electric vehicle users' charging needs?
User Experience: One of the biggest issues for users of electric vehicles is 'range anxiety' (the fear that a vehicle won't have enough battery life to reach its destination). To overcome this problem, users put limitations on their journeys (having to take routes that feature a charging station, waiting time while charging, searching for a parking place with a charging terminal, etc.). How can you meet electric vehicle users' charging needs without putting limitations on their journeys?
Social Network: The development of electric mobility brings about new social interactions between users at charging stations, which in turn result in their own problems: rude and inconsiderate behaviour, waiting times, fully-charged vehicles occupying a charging terminal, etc. The first initiatives designed to create communities of users are being developed. How can you create and share best practices and rules of good conduct for interactions between drivers of electric vehicles by uniting them into a community?
Prizes
Grand Prize: Electric bike or the equivalent in Amazone.com gift voucher (€700TTC)
Second Place Prize: Electric scooter or the equivalent in Amazone.com gift voucher (€500TTC)
Third Place Prize: Hoverboard or the equivalent in Amazone.com gift voucher (€200TTC)
Each member of a Participant Team will receive its own prize.
Eligibility
This Challenge is open and offered solely to Student;
Any individual aged eighteen (18) years and/or with full legal capacity, who (i) is currently enrolled at a post-secondary institution or (ii) has recently graduated from a post-secondary institution less than 2 years before the current scholar year, with a student card to prove it;
Each Student may only participate once in each Challenge. If the participant is a minor, you must provide this authorization signed by a parent or guardian in the name of the minor.
All the documents that may confirm the Participant's eligibility will be required prior to awarding any prizes (e.g. identity document, student card etc.).
Application
For more information, visit EDF Pulse Mobility Exploration Challenge.