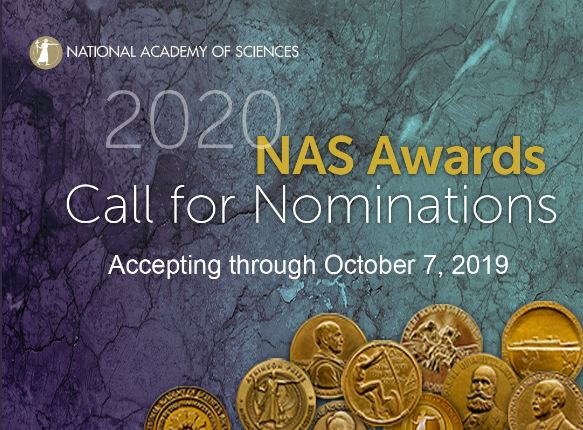 Call for Nominations: NAS Awards – James Craig Watson Medal 2020 ($25,000 prize)
Deadline: October 7, 2019
Nominations are invited for the NAS Awards – James Craig Watson Medal 2020. The James Craig Watson Medal is presented every two years for outstanding contributions to the science of astronomy.
The Watson Medal was established by NAS Member and prolific Canadian-American astronomer, James Craig Watson. Watson is credited with discovering twenty-two asteroids in his lifetime. He published many articles and wrote A Popular Treatise on Comets (1861) and Theoretical Astronomy (1868).
The Watson Medal was first awarded in 1887 to Benjamin Apthorp Gould for his work promoting the progress of astronomical science. Gould was not only an astronomer, but also active in securing the establishment of the National Academy of Sciences. Among other contributions to astronomy, Gould mapped the stars of the southern skies. This four-year long endeavor involved the use of the recently developed photometric method, and upon the publication of its results in 1879, it was received as a significant contribution to science.
Award
The award includes:
A gold-plated bronze medal
A $25,000 prize, and
$50,000 to support the recipient's research.
Eligibility
Self-nominations are not accepted.
Joint nominations are discouraged and will only be considered when nominees have collaborated closely — usually in the same laboratory — on the work to be recognized by the award.
NAS membership is not required to nominate or to be nominated.
International nominees are eligible for nomination unless explicitly stated otherwise.
Application
All nominations must be submitted online. Unless otherwise stated, the following materials must be submitted.
A letter from the nominator describing the candidate's work and why he or she should be selected for the award. No more than three (3) pages.
Curriculum vitae. No more than two (2) pages (similar to CVs included with NSF proposals).
Bibliography listing no more than twelve (12) of the nominee's most significant publications.
Suggested citation. A 50-word summary stating why the nominee should be considered for this award. Citation examples
Two letters of support. Support letters must be written by individuals from institutions outside both the nominator's and the nominee's institution.
For more information, visit James Craig Watson Medal.