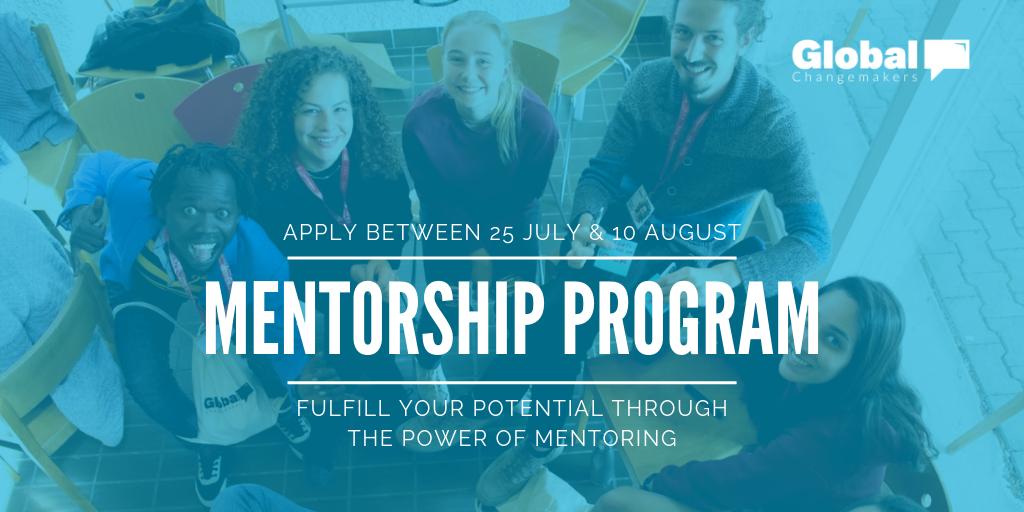 Global Changemakers Mentorship Programme 2019
Deadline: August 10, 2019
Applications are invited for the Global Changemakers Mentorship Programme 2019. The Global Changemakers Mentorship Programme is designed to support young leaders, aged 15-22, to fulfill their full potential through the revolutionary power of mentoring.
To be a changemaker, to make a difference, is to use your full potential and resources to create a positive change in your community. This looks different for everyone as each person is unique – and so is our role in creating a fairer and more sustainable world. Through the mentorship programme and with the support of an expert mentor, an experienced changemaker, you will have the opportunity to understand your purpose, values and strengths – and what your unique contribution may be.
The five part programme takes place online over 13 weeks from September to December 2019.
Part 1 – 

Self Knowledge: The programme starts with sessions designed to help you get to know yourself, your story, your values, strengths and weaknesses, motivations and other topics.
Part 2 – Your Purpose: Your mentor will then help you understand your unique purpose, as well as explore the concepts of "success", "happiness" and how everything connects to who you are and the impact you want to have in the world.
Part 3 – Your Goals: A purpose can only be achieved with clear goals. In part 3, your mentor will help you design challenging goals that will lead you to fulfill your purpose.
Part 4 – Mindset: Pursuing goals takes a very strong mindset. Your mentor will help you develop a growth mindset, as well as help you cultivate good habits and understand how to keep motivated to reach your goals.
Part 5 – Execution: Lastly, your mentor will help you design a clear and challenging execution plan, which will include elements such as networking, learning and sharing knowledge.
Mentorship
Each mentor in our programme has been carefully selected from among our global network of changemakers. Over the course of thirteen weeks, they will guide you through our five part programme, encouraging and inspiring you to discover and live up to your full potential.​
Eligibility
Open to young leaders from all countries aged 15-22.
Application
There are limited spots available, don't miss your chance to join the programme!
For more information, visit Global Changemakers.