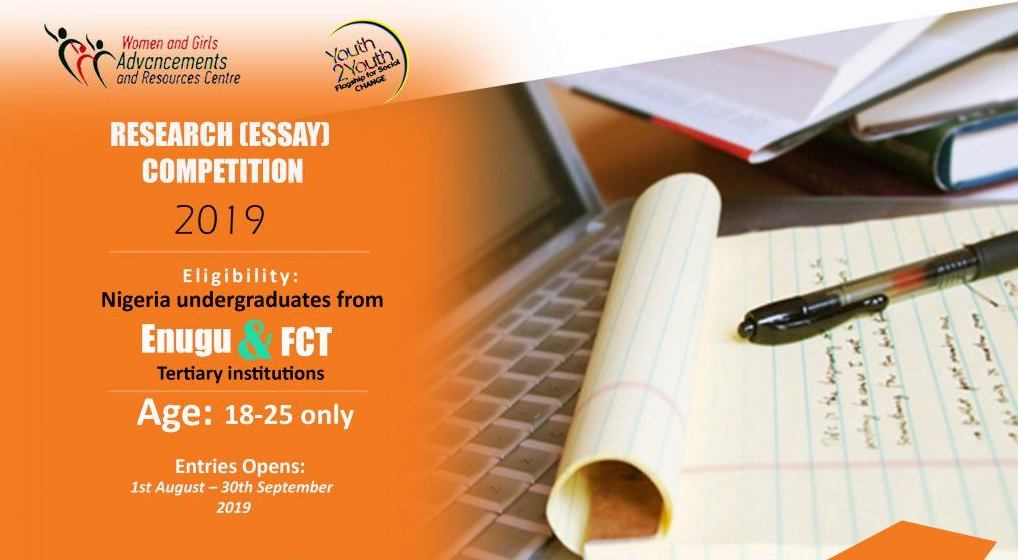 VOICE Innovation Lab: Youth2Youth Flagship Research Competition 2019 for Nigerians
Deadline: September 30, 2019
VOICE Innovation Lab calls for entries for the maiden edition of its annual Research Essay Competition in Nigeria. The Youth2Youth Flagship Network for Social Change aims to establish a virtual and physical space for exploring innovative ways of addressing issues affecting the Youth, a target beneficiary of VOICE.
The essay competition, put together for undergraduates in tertiary institutions in Enugu State and the FCT is organized as part of VOICE Innovation Lab: Youth2Youth Flagship for Social Change initiative to promote creative writing and reading culture among youth in Nigeria to highlight and address challenges faced by Nigeria Youth and encourage active citizenship. The essay competition aims to advance theory and extend knowledge on the root causes and dynamics of youth marginalization as well as on the variety of collective responses provided by young people to deal with existing socio-political economy constraints.
Findings to be published to foster policy advocacy for change. The research will adopt an interdisciplinary and gender-sensitive approach to analyse the diverse levels of marginalisation of young people in the development processes in Nigeria. The data will be captured by combining qualitative and quantitative methods. Intense in-depth analysis of various kinds of public documents, academic studies and interviews with relevant stakeholders and key informants to investigate the factors of youth marginalisation. 
Benefits
1st prize: Laptop computer + N50,000 grant for books
2nd prize: Laptop computer + N30,000 grant for books
3rd prize: Laptop computer+ N20,000 grant for books
Eligibility
All Undergraduates students below 25 years in ALL institutions of higher learning in Enugu state and the Federal Capital Territory (FCT Abuja).
Application
All entries should be sent as an email in MS Word format to the following email address [email protected]. The email subject should be your full name and the word "RESEARCH COMPETITION".
For more information, visit Y2Y Research Competition.