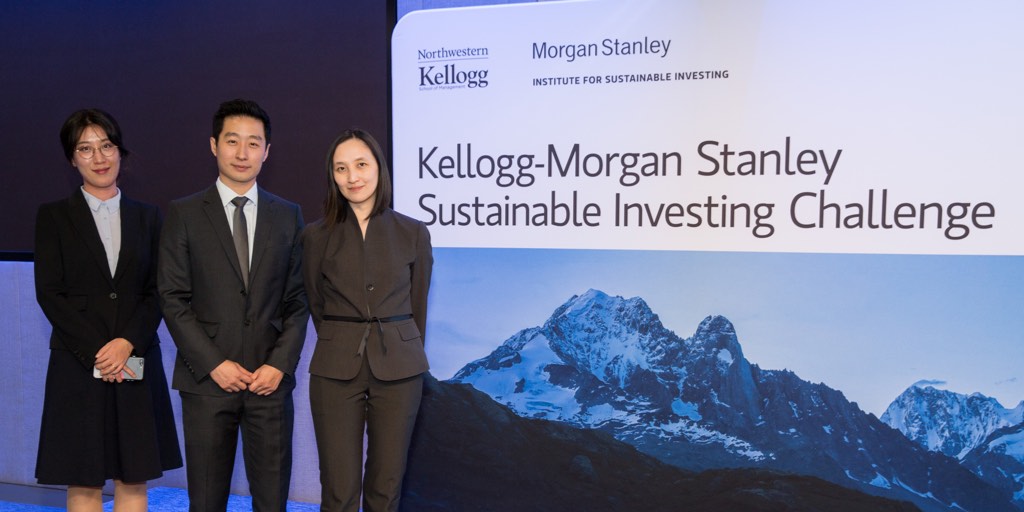 Kellogg-Morgan Stanley Sustainable Investing Challenge 2020 (up to $15,000 in prizes)
Deadline: February 20, 2020
Applications are open for the Kellogg-Morgan Stanley Sustainable Investing Challenge 2020. Every year, the Kellogg-Morgan Stanley Sustainable Investing Challenge invites teams of graduate students from around the world to develop and pitch creative financial approaches to tackle pressing social and environmental challenges.
The Challenge identifies, empowers, and inspires the next generation of sustainable finance practitioners and connects them with leading industry professionals.
Challenge Details
Contestants must propose and defend a strategy that uses finance and investment tools rather than an operating enterprise to address an environmental or societal challenge. The competition is an opportunity to apply core finance principles to target the economic, social and environmental challenges that drive the field of sustainable investing.
Pitches might focus on areas like water, energy, food, social mobility, climate change, education or healthcare, among others. Contestants are encouraged to apply the entire spectrum of investment tools, styles and asset classes. The Challenge seeks to identify the next generation of sustainable finance practitioners, connect emerging leaders with industry professionals, and foster even greater emphasis on sustainability at graduate schools around the world.
2020 Focus on Plastics
In addition to the broader call for proposals inviting creative financial approaches to social and environmental issues, the 2020 Sustainable Investing Challenge is encouraging concepts that target plastic waste. This new-for-2020 opportunity is in keeping with Morgan Stanley's Plastic Waste Resolution and commitment to facilitating the prevention, reduction and removal of 50 million metrics tons of plastic waste from entering rivers, oceans, landscapes and landfills by 2030. Proposals that address the issue of plastic waste will be eligible for an additional prize of $5,000 in addition to eligibility for the annual top and runner-up prizes for the overall competition.
Prizes
The winning and runner-up teams are awarded cash prizes of $10,000 and $5,000, respectively.
The winning team will also have the opportunity to attend and present at the Milken Institute Global Conference.
Each year, finalist teams emerge from the Challenge and go on to launch funds and innovations. Students also have the opportunity to connect with potential employers.
Eligibility
Teams of graduate students from around the world are invited to participate.
Each team is limited to a maximum of four members, all of whom must be enrolled in a graduate program at the time of the prospectus submission.
Application
For more information, visit Sustainable Investing Challenge.