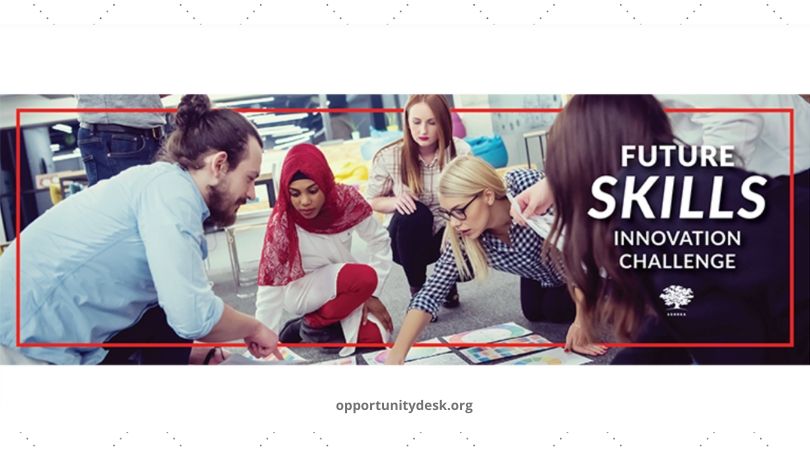 Ashoka/HSBC Future Skills Innovation Challenge 2020 for Social Entrepreneurs (up to $25k cash prize + support & mentoring)
Deadline: February 28, 2020
Applications are now open for the Future Skills Innovation Challenge 2020! Are you helping develop the skills needed for everyone to play an active role in the economy of tomorrow? If so, apply now.
Ashoka and HSBC recognize the power of social entrepreneurs to help develop the skills needed to plan for a successful future, both financially and through meaningful employment. That's why they have launched the Future Skills Innovation Challenge, an international competition aimed at recognising, supporting and nurturing the best social entrepreneurs and their innovations. 
They are looking to find creative, passionate innovators who are building a future where everyone has the skills needed to thrive. Specifically, they're looking for ideas that focus on Employability or Financial Capability.
If you're a social entrepreneur focused on developing Future Skills, this is an opportunity to kickstart your changemaker journey and apply. 
Benefits
All applicants will:
Have the opportunity to receive peer feedback via the prize online platform, including the opportunity to view, review and connect with other applicants of the Future Skills Challenge.
Receive feedback from Ashoka and/or HSBC representatives.
Up to 50 semi-finalists will:
Have an opportunity to refine entries and incorporate feedback received in the screening phase  Receive additional feedback from experts from HSBC & Ashoka  
Be referred as semi-finalists in the announcement communications  
Access a call for semi-finalists to connect with peers  
There will be 12 challenges winners, across 3 categories:
-Most scalable solutions-
Awarded to solutions with proven models who have potential to begin scaling their impact.
Winners receive and up to $25k cash prize plus support & mentoring from HSBC and Ashoka on how to scale and raise additional finance.
-Most innovative solutions-
Awarded to solutions with an innovative use of technology.
Winners receive up to $20k cash prize plus support & mentoring to help develop their innovation.
-Best early-stage ideas-
Awarded to solutions with highly innovative ideas which are still at an early-stage.
Winners receive up to $12.5k cash prize plus support & mentoring to develop their idea.
Eligibility
To apply:
You must have incorporated as a non-profit, for-profit, or hybrid organization.  
You must be over 18 by the time you apply.  
If your product has not launched, you must have a business plan and MVP (prototype, pilot, or another proof of concept).  
Entries will only be accepted in English (winners will be expected to engage in activities that require English proficiency).  
We are open to entries from the following markets: Algeria, Argentina, Armenia, Australia, Bahrain, Bangladesh, Bermuda, Canada, Chile, Egypt, France, Germany, Greece, Hong Kong, India, Indonesia, Ireland, Japan, Kuwait, Malaysia, Malta, Mauritius, Mexico, Oman, Philippines, Poland, Qatar, Russia, Saudi Arabia, Singapore, South Africa, South Korea, Spain, Sri Lanka, Switzerland, Taiwan, Thailand, Turkey, UAE, UK (inc Channel Islands), USA, Vietnam.
Additional terms:
Only one application per initiative will be accepted
Employees of HSBC advertising agencies, promotion agencies and other service providers for this Challenge, their immediate family members (spouse, parent, child, sibling, regardless of where they reside) are not eligible.
Partners or initiatives that are already financed or supported by HSBC its affiliates, subsidiaries or joint ventures are not eligible
Requirements
Within the topic of Financial Capability we love innovations such as:
Digital solutions which empower people with the knowledge and skills to manage their money effectively.
Innovations that change people's behaviours and enable them to be financially healthy.
Within the topic of Employability we love innovations such as:
Entrepreneurs who focus on developing innovative, high-quality future skills training that will skill, reskill and upskill people. 
Ideas that help people foster the mindset of continuous learning – especially in industries that are most vulnerable to the effects of automation. 
Criteria
They will assess all applications based on 4 criteria:
Impact
Innovation
Financial and Operational Sustainability
Changemaking Activation
Application
If you meet the criteria then go ahead and submit your application through the link below. 
Alternatively, if there's anyone who you think is a superstar innovator in the field of future skills, then you can nominate them here, and we'll get in touch with them and ask them to apply.
For more information, visit Ashoka.