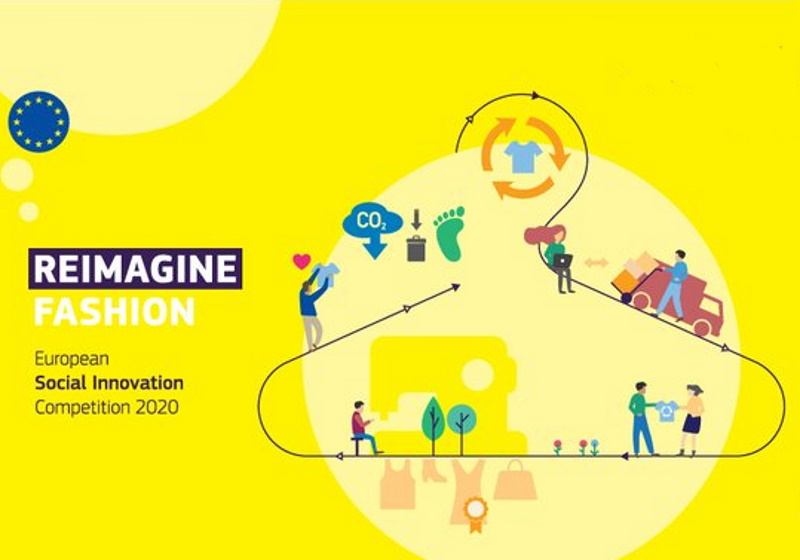 European Social Innovation Competition 2020 for EU Countries (50,000 Euro cash prizes)
Deadline: March 4, 2020
Applications for the European Social Innovation Competition 2020 are now open. The European Social Innovation Competition, launched in memory of Diogo Vasconcelos, is a Competition run by the European Commission across all European countries, now in its eighth year.
The 2020 Competition is titled Reimagine Fashion – changing behaviours for sustainable fashion. They are looking for ideas that seek to improve the environmental and social impact of the European fashion market through the development of new products, services and processes, and innovative business models.
Focus Areas
They are looking for ideas from one or more of the fields listed below and they encourage solutions that address several of these areas through a systems perspective:
Solutions for sustainable use and consumption:

Change consumption patterns and behaviours regarding the linear use of 'fast' fashion
Extend the life cycle of fashion products
Reduce the use and consumption of fashion and textiles through innovative business models in favour of reuse, upcycling and sharing
Make sustainable and fair fashion more broadly accessible
Stimulate socially inclusive processes throughout the fashion value chain

Solutions for sustainable production:

Net zero waste and climate neutral fashion and textiles production
Closed loop fashion and textiles systems
Sourcing of alternative, sustainable feedstock
Innovative techniques that build on traditional or local crafts for socially sustainable products
Innovations that reduce the environmental footprint of the fashion market

Solutions for improving the end of life stage:

Environmentally and socially respectful ways of recycling textiles, while maintaining their value

Reuse of textile by-products before they become waste
Benefits
Semi-Finalists that participate in the Competition have access to a range of support from social innovation experts:
1-to-1 dedicated mentoring from locally-based coaches
Access to an online pool of experts from across Europe
A series of exclusive webinars covering topics about social innovation and sustainable fashion
A 3-4 day residential training Academy, including group workshops, discussion panels, guest speakers, and 1 to 1 support
Ongoing peer support and networking with fellow entrants
Promotion on the Competition's website, social media channels, newsletter and press releases as well as by the European Commission
Press support from Media and Communications experts, including a media asset kit
An opportunity to win one of three 50,000 Euro cash prizes and ongoing recognition as an Alumni of the Competition with access to the Alumni Network
An opportunity to win a further 50,000 Euro cash prize the following year as part of the 2021 Impact Prize.
Eligibility
Open to any legal entity (including natural persons) or group of legal entities, except public administrations, established in EU Member States or Associated countries to Horizon 2020 
Ideas and proposals from all sources, sectors and all types of organisations including for-profit, not-for-profit, or private companies are welcome. Applications involving several organisations and/or from various countries are possible.
Eligibility criteria must be complied with for the entire duration of the Competition. If the United Kingdom withdraws from the EU during the competition period without concluding an agreement with the EU ensuring in particular that British applicants continue to be eligible, British applications will be rejected.
Participants that have already received an EU or Euratom prize cannot receive a second prize for the same activities.
Participants will be excluded if they (or one of them) are:

subject to an administrative sanction (i.e. exclusion) 
bankrupt, being wound up, having their affairs administered by the courts, entered into an arrangement with creditors, suspended business activities or subject to any other similar proceedings or procedures under national law 
declared in breach of social security or tax obligations by a final judgment or decision
found guilty of grave professional misconduct by a final judgment or decision 
convicted of fraud, corruption, involvement in a criminal organisation, money laundering, terrorism-related crimes (including terrorism financing), child labour or human trafficking
shown significant deficiencies in complying with main obligations under a procurement contract, grant agreement or grant decision financed by the EU or Euratom budget
Judging Criteria
Degree of Innovation: Either disruptive or incremental (building on what has gone before). Critically, the idea must be innovative within its given socio-economic and geographical context.
Impact: The potential of the proposed idea to tackle the issue outlined in the challenge statement. The entrant should demonstrate a clear definition of the problem their idea solves and for whom, feeding into a well-elaborated theory of change.
Sustainability: The financial and environmental sustainability of the idea, as well as the potential for adequacy and uptake stemming from the development of the idea carried out with users, from first concept, through testing, validation and business modelling.
Scale: The idea's growth potential and potential to scale and be replicated throughout Europe.
Application
Click here to enter the competition
For more information, visit European Social Innovation Competition.