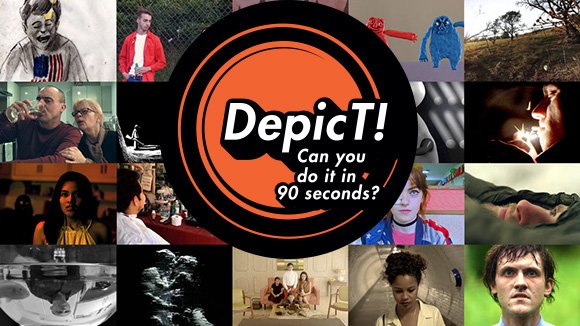 Depict International Short Film Online Competition 2020 (£2,500 Cash Awards plus more)
Deadline: June 4, 2020
Submit your entries for the Depict International Short Film Online Competition 2020. Depict is Watershed's international short film online competition running since 1998 as part of Encounters Film Festival (Bristol, UK) – one of the world's leading international festivals for short film, animation and virtual reality, and also an official gateway to the world's most prestigious awards: the Academy Awards®, BAFTAs and the European Film Awards.
They want to see great films – it doesn't matter what your budget is or what genre you're working in as long as you show originality, imagination and are able to connect with audiences.
Prizes
Prizes include:
£2,500 (GBP) Cash Awards thanks to sponsors including The Royal Photographic Society and Aardman Animations.
Career development support from NFTS, BFI NETWORK and Channel 4's Random Acts.
Invaluable exposure and promotion through depict.org and at Encounters Film Festival – including a Festival pass with all the trimmings, tickets to the popular Depict Showcase and the prestigious Awards Ceremony.
Winning shorts get complimentary BBFC certification and are made available for theatrical screenings to exhibitors across the UK.
Eligibility
The competition is open to anyone from anywhere in the world, and entry is absolutely free – but there is ONE simple rule: your film MUST be 90 seconds or less in duration.
Rules and Terms
The duration of your film(s) must not exceed 90 seconds including titles and credits.
Depict is open to short films of all production techniques, including animation, documentary, drama, experimental or artist film and hybrid work. They do not accept advertisements.
Only films completed since January 2019 may be submitted. Whilst they do not have a premiere policy, they positively encourage entries made specifically for Depict.
The maximum number of entries per individual is five.
The primary contact completing the submission process must be authorised to submit the film(s) and must have obtained necessary permissions for the inclusion of copyrighted music and/or images within the films.
If the original language is not English, please ensure that the film includes English subtitles.
If your film(s) is /are shortlisted, you will be asked to promptly send in a high resolution version of your film for online use on depict.org, connected social media channels and screening at Encounters Film Festival (September 2020). You will also need to supply publicity stills, a synopsis and a bio.
Please note that only the director(s) will be credited on the website and any other promotional material. In the case of shortlisted and/or winning co-directors, multiple prizes may be granted at the discretion of the organisers.
The Depict British Special Mention Award is open to UK productions only. Films are only eligible if they have a substantial British contribution in the following areas: director, producer, writer, principal cast and crew, production company, finance. To indicate your film's eligibility for this award, please select "UK" as the country of production in the submission process.
Application
Click here to submit your entries
For more information, visit Depict Short Film Competition.