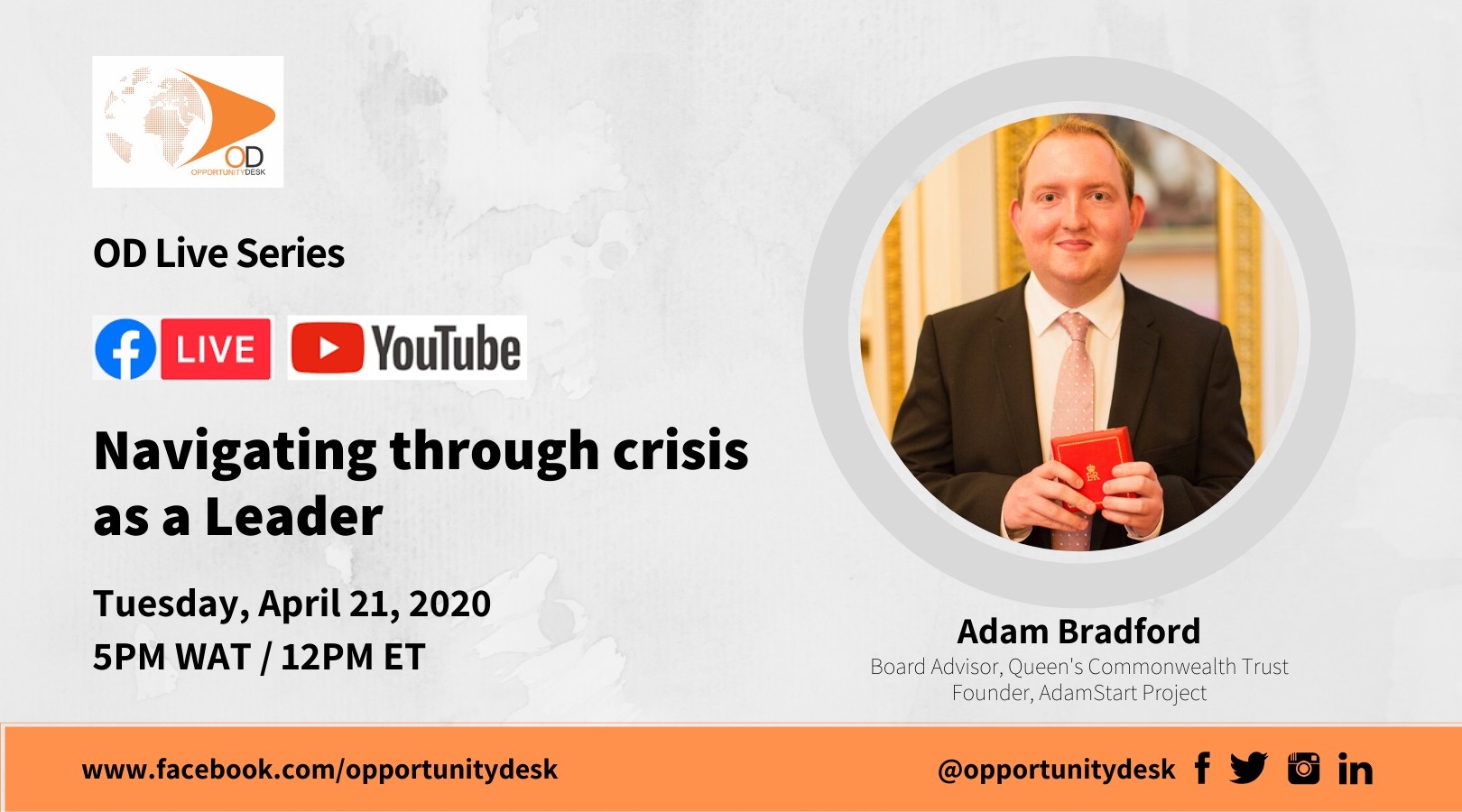 OD Live with Adam Bradford: Navigating through Crisis as a Leader
We are living through the reality of a distracted work force caused by COVID-19. Leaders, especially entrepreneurs, are now more than ever required to turn and channel their teams energy to enable them accomplish corporate goals.

This session will address the following key questions:

1. What actions can the best leaders take during these times of crisis?
2. How can managers and leaders strengthen their muscles as a preparation for post COVID-19?
3. How can leaders remain personally resilient to lead their organizations through a crisis?
4. What do you suggest as the key principles to help leaders navigate through crisis?
5. What are some key principles leaders should maintain while managing remote teams?
6. How to align your ambition with purpose and focus on the big picture.
The #ODLive series is part of our efforts to empower our users with the right knowledge and tips they need to grow and succeed in their businesses, projects, and applications for global opportunities.
About the speaker: Mr. Adam Bradford
Queens Young Leader, Board Advisor of the Queen's Commonwealth Trust and social-entrepreneur. Mr. Adam Bradford is an English political and social activist, entrepreneur and business adviser. He has acted as an adviser to young entrepreneurs internationally and worked to develop entrepreneurship initiatives in the United Kingdom. He founded the AdamStart project, one of Bradford's flagship programs to help young entrepreneurs scale their ideas and provide more employment opportunities. Currently in its 10th year, the project has reached over 10,000 young persons across 130+ countries.

We are so excited to host Adam on Tuesday, 21st April 2020.
---
Event Details
Topic: Navigating through Crisis as a Leader
Speaker: Adam Bradford (London, UK)
Date: Tuesday, April 21, 2020
Time: 5:00pm WAT or 12:00pm ET
Watch a replay on our Facebook Page and YouTube Channel
You don't want to miss this. Save the date! #ODRocks #ODLive
---
Established in 2012, Opportunity Desk (OD) is the largest digital media platform that bridges the gap to education by sharing information on relevant learning and growth opportunities for youth around the world. These opportunities help to facilitate young people's efforts in exchanging ideas and preparing themselves for the future.
Opportunity Desk works to provide access to global experiences to all through educational opportunities abroad, scholarships, training and conferences, fellowships, grants and awards, jobs, internships and volunteer programs. By doing so, the OD hopes to bring an international experience to everybody, regardless of their background, age, disabilities, education, gender identity, racial or ethnic identity, sexual orientation or socio-economic status.
Follow OD to stay up to date:
Facebook: https://www.facebook.com/OpportunityDesk
Twitter: https://twitter.com/OpportunityDesk
Instagram: https://www.instagram.com/opportunitydesk/
LinkedIn Profile: https://www.linkedin.com/in/opportunitydesk/
LinkedIn Page: https://www.linkedin.com/company/opportunitydesk/
Telegram Channel: https://t.me/opportunitydeskofficial
Telegram Group: https://t.me/joinchat/SNHwcxPJdHa3XIlcchG7-Q
Come ready with your own questions.
, ,
It's going to be amazing!
Watch past OD Live sessions here.