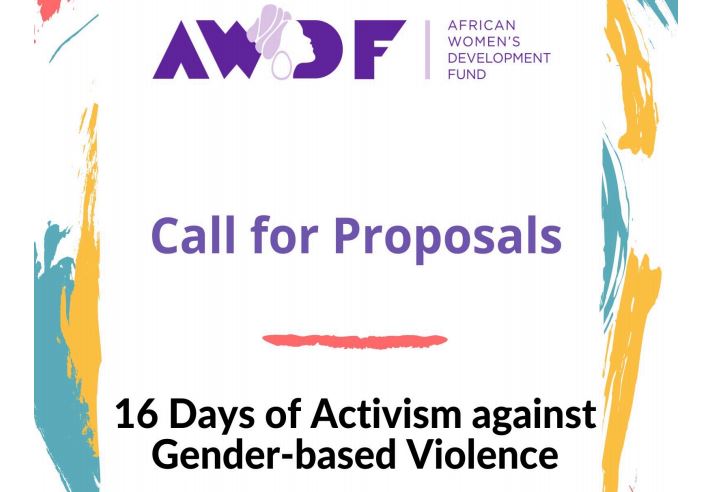 Call for Proposals: AWDF 16 Days of Activism against Gender-based Violence (Up to US$2,000)
Deadline: July 13, 2020
Call for proposals are open for the AWDF 16 Days of Activism against Gender-based Violence. AWDF will focus on 'women's mental health and wellness' during the 2020 Sixteen Days of Activism Against Gender Based Violence.
Women groups and organisations will be supported during the activism period to intensify education and awareness on preventing violence against women and girls (VAWG) as well as promoting women's access to comprehensive mental health and wellness services.
Program Details
AWDF is looking for women's rights organisations and group employing innovative approaches, methodologies, tools and resources that show positive results through awareness creation and advocacy to promote women's mental health and wellness.
AWDF encourages creativity- so send in your exciting ideas for events, public campaigns and other activities towards preventing violence and promoting women's mental health and wellness.
Projects may include:
The use of arts, culture and sports to create awareness around Violence Against Women and Girls (VAWG) and promote women's mental health and wellness
Creation of a platform for collective care and to discuss and encourage women, including survivors of violence, to prioritise their mental health and wellness
The use of media including social media to discuss and promote women's mental health and wellness
Organising young women to mobilise around the elimination of Violence Against Women and Girls and promoting women's mental health
Creation of a movement to encourage and promote African/local practices that promote mental health and wellness
Sensitise organisations providing GBV services (legal aid, psychosocial support, counselling, medical care, economic support, etc.) to strengthen the provision of emotional healing and wellness in their various activities.
Grant
The grant size is US$2,000. Therefore, eligible projects should have a budget of not more than US$2,000 to be supported by AWDF funds. The grant period will be for 4 months from the date of award.
Eligibility
Applicant Organisation:
Must have been in existence for at least 3 years;
Must be duly registered, at least with the local government structure;
Must be led by a woman and have a focus on Women's Rights;
Must have the needed organisational structures for effective implementation of the project;
Must have an appreciable financial management system to properly account for funds received;
Must be capable of reporting back on the outcomes of the project;
Must be highly recommended by a donor agency, a grantee or partner of AWDF or a well-known national women's rights organisation;
Must complete the necessary application forms;
Must have an annual budget not more than $100,000.
Application
Download the budget template and financial assessment form.
Interested small sized women's rights organisations should send in their proposals using the required application guidelines to the AWDF secretariat via email to [email protected]; [email protected]; The applicant must also complete and include a financial management assessment form and an outcome form.
For more information, visit AWDF.