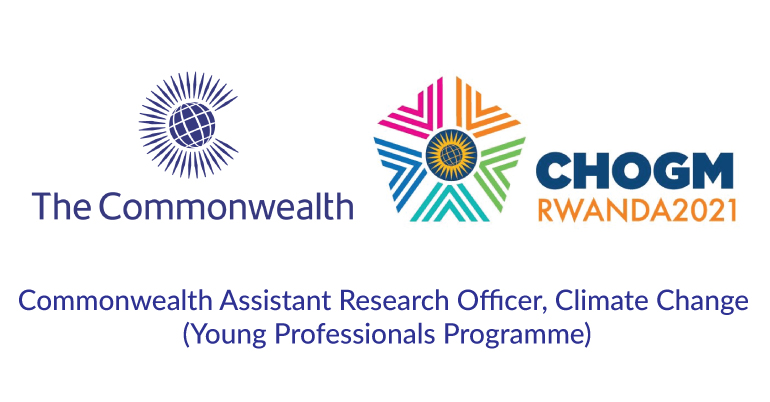 Commonwealth Young Professionals Program 2021 – Assistant Research Officer, Climate Change (£29,070 salary)
Deadline: January 11, 2021
Applications are open for the Commonwealth Young Professionals Program 2021 – Assistant Research Officer, Climate Change. The Commonwealth Secretariat is proud to be supporting youth empowerment through their newly created Young Professionals Program (YPP).
The Young Professionals Program (YPP) creates multiple opportunities for talented and qualified young people from across the Commonwealth to contribute to their core work through the transference of technical expertise, innovative ideas, specialist knowledge and fresh perspectives. They are looking for an Assistant Research Officer, Climate Change.
Responsibilities
Reporting to the Head or Section, Climate Change, the scope of work of this role centres around research and analysis, report drafting and stakeholder engagement.
Among the responsibilities encompassed in this role includes (but are not limited to):
Conducting desk-based research on the themes and implementation plan action areas.
Support in development of a technical reports to form the basis for the drafting and finalization of the Commonwealth Living Lands Charter.
Stakeholder engagement – the identification and interview of key stakeholders as part of the consultation process on the Living Lands Charter including technical agencies, High Commissioners and relevant line ministries of member countries.
Presentation of findings.
Benefits
Salary on appointment is £29,070 per annum gross. This is subject to the deduction of internal income tax (currently aligned with UK income tax rates) and UK National Insurance contributions.
Eligibility
You must be a citizen of a Commonwealth country aged 27 years or younger at the time applications close.
You must have a degree in a relevant  field such as Agriculture, Forestry and Land Use management, Water Management, Environmental Economics, Climate Change and Natural Resource Management or any other closely related field, along with at relevant work experience in environment and climate change. 
You must also have at least one year of demonstrated work experience in supporting policy dialogue and cross-institutional collaboration, including with representatives of government and non-government partners.
Understanding of issues related to climate change policies, land, biodiversity, indigenous people and animal husbandry is also essential.
Application
If you feel that you are suitable for the role, apply by January 11, 2021.
For more information, visit Commonwealth.