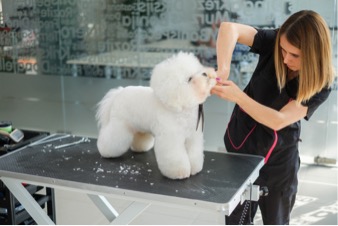 The Top Careers for Animal Lovers
If you are lucky enough to have a connection with animals, why not turn it into a career? There are plenty of jobs available for people who want to care for pets, wild animals and exotic creatures. Many of them will require you to don veterinary scrubs and attend to patients, but you do not have to become a veterinarian and go to school for years on end to help these animal companions.
Discover some of the top careers for animal lovers in the list below. These roles are also rewarding, pay well and usually include additional perks and benefits. No matter your work style, you will find a position that is right for you. You may even land your next dream job.
Groomer
Millions of American households have dogs and other furry friends who need to be bathed and groomed. Business is also booming. The pet grooming industry is expected to grow by over 23 percent over the next year. For this reason, you will find it easy to start your career as a groomer. If you are interested in making animals look stylish, you have an excellent career future ahead of you. Possible workplaces include veterinarian offices, boarding facilities and resorts. You may even decide to start your own business.
Before you begin your career as a groomer, check licensure requirements in your state. Some of the possible paths include on-the-job training, certifications from the National Dog Groomers Association of America and apprenticeship programs. Review job descriptions thoroughly before you apply or enter a certification program. Veterinarian offices and pet stores are just some of the companies that may be able to offer you competitive benefits, such as paid vacation, 401(k) and health insurance.
If you like to travel, consider becoming a mobile dog groomer. Trucks and vans equipped with grooming stations can bring the convenience of pet care to a dog or cat owner's home. You may even be able to park your vehicle at large events geared toward animal companions. With a job as a pet grooming professional, your life can be fun and flexible.
Veterinary technicians are one of the most popular careers for animal lovers. Depending on where you live, they may also be referred to as veterinary technologists, paraveterinary workers or vet assistants. As a tech, you will spend your day with animals of all types. Some of your duties will include listening to an animal's vitals with the help of tools like a veterinary stethoscope, obtaining lab samples, performing X-rays and assisting doctors with dental and medical procedures.
A vet assistant's job is important, so they will need a formal education. In general, working with a veterinarian in this capacity requires an associate's degree from an accredited two-year program. Once you earn your degree, you will also need certification or licensure in the state in which you live.
Besides the ability to work with all types of animals, earning a two-year degree as a veterinary tech has its benefits. The median salary for veterinarian assistants is over $35,000 annually, with growth occurring in the field much faster than the national average. Competitive employers will provide health insurance, retirement plans and paid time off. You may even receive life insurance or disability insurance benefits. Check with the company to find out what they offer as part of their employment package.
When you think of animal breeding, you may envision working with dogs and cats. While this is a popular type of breeder, it is also possible to become one at a zoo or an animal conservation center. The type of education you need will depend on what type of critters you want to work with. Domestic pet breeders do not require more than a high school education, but they must have a love for pets and their little ones. It is also important to gain a knowledge of animal science and understand how to support and attend to the animals and their babies through all stages of pregnancy and birthing.
If you would like to become the most experienced breeder possible, you can gain formal education and even certification. For example, the American Kennel Club offers education programs for its members. Search online for academic memberships and certification options for the types of animals you wish to breed. The more knowledge and experience you have, the better you will be at your job.
Those who want to help breed larger creatures, like zoo animals, will require more extensive education. A minimum of a bachelor's degree in animal science, zoology or animal biology is required. In some cases, you may even need postgraduate education in degrees such as zoology. No matter the path you take, it will be worth your time. While you will get the perk of caring for animals all day, you will also earn an average salary of around $43,000 per year. Talk to experienced pet breeders who know what it is like to spend years in the field. They can help you to gain more experience and hone your craft.
Pet and animal training is another exciting job that is also expected to grow much faster than the national average. According to the Bureau of Labor Statistics (BLS), the field of animal care and service workers will rise as much as 22 percent over the next several years. This amounts to tens of thousands of new jobs for qualified trainers.
Every career will require some type of training, licensure or certification. Check with licensure bodies in your state to see if they expect any formal training. You may also attain on-the-job training or learn to become a behaviorist at a school. Dog trainers are employed at grooming and boarding centers, animal hospitals and pet stores. They are also hired full-time and part-time at dedicated animal training centers. Some trainers may decide to work freelance as a small business owner or contractor, especially after gaining experience. Another option you may want to consider is purchasing a franchise that specializes in training. Dog training is one of the best work-from-home franchises. Buying a franchise like this will give you access to ample training and a business model that is proven to be effective while also giving you the freedom to set your own hours.
Typical job responsibilities as a dog trainer include conditioning canines to learn new things, offering positive reinforcement and teaching hand signals and voice commands. Salaries are competitive and many roles will also offer additional benefits. If you decide to train larger animals, such as horses or zoo creatures, your employer will require more education. A degree in animal behavior, animal science or zoology can help you to land your dream job.
Finding a Lucrative Animal Career As an animal lover, you do not have to choose between enjoying your favorite interests and having a rewarding career. There are plenty of roles and workplaces to fit every lifestyle and personality. Now that you know a little bit more about some of the top jobs for animal lovers, you can begin researching your options for education, licensure or certification. Soon, you will earn your experience and find a career that is both lucrative and meaningful
For more articles, visit OD Blog.