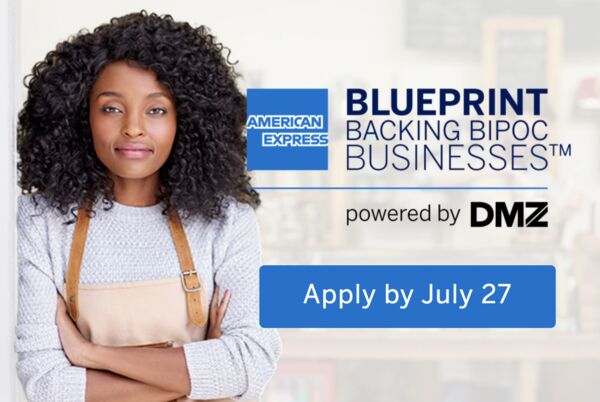 American Express Blueprint: Backing BIPOC Businesses Program 2021 [Canada Only]
Deadline: July 27, 2021
Applications for the American Express Blueprint: Backing BIPOC Businesses Program 2021 are now open. The Blueprint: Backing BIPOC Businesses, is a mentorship and grant program designed to support the advancement of Black, Indigenous, and People of Colour (BIPOC) business owners across Canada.
In 2021, 100 Blueprint recipients will take part in a comprehensive mentorship program designed to provide the tools, resources and community to help BIPOC entrepreneurs thrive – plus, recipients will receive a $10,000 CAD grant to help take their business to the next level.
Blueprint is powered by the DMZ, in consultation with BIPOC-focused community organizations across Canada. The Blueprint mentorship program is made possible by a grant from the American Express Foundation. Additionally, American Express Canada is contributing $1,000,000 in grants to be disbursed to the 100 selected participants.
Benefits
Blueprint participants get access to:
A 15-week curated mentorship and training program, delivered virtually, by subject matter experts and mentors.
A community network of Blueprint participants from across Canada connected through small group training and social events.
Online resources and learning materials designed to support the BIPOC small business community.
A $10,000 grant to help unlock the next stage of their business growth.
Eligibility
To be eligible for Blueprint, an applicant must:
Identify as a member of the BIPOC (Black, Indigenous, and People of Colour) community.
Be a Canadian citizen, a Permanent resident of Canada, or Hold Current and Valid Authorization under the Canadian Immigration and Refugee Protection Act.
Be a founder, owner, or hold a senior position within a privately held, for-profit company, where the company is at least 50% owned by BIPOC owners or founders.
Have a business incorporated in Canada, where the business is primarily operated and managed in Canada, with a maximum of $500,000 CAD in annual revenue.
Your business must be currently active in the Canadian market or have been previously active in the Canadian market (i.e. made sales and/or have an existing customer base.
Speak English or French fluently.
Application
Submit your application by July 27, 2021 at 11:59 p.m. Eastern Daylight Time.
For more information, visit American Express Blueprint.