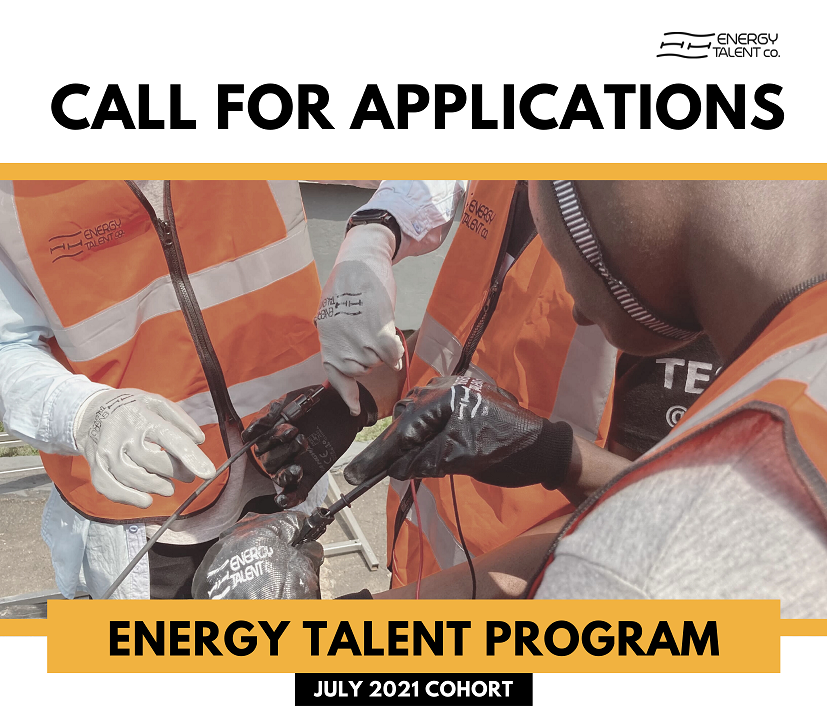 Call for Applications: Energy Talent Program 2021 for Young Nigerians
Deadline: July 12, 2021
Applications for the Energy Talent Program 2021 are now open. The Energy Talent Program is a 24-month career development and job-placement program that trains promising and talented STEM graduates to build successful careers in the Nigerian Solar industry.
The renewable energy space is a lucrative and fast-paced industry with different career paths but there is a large gap for skilled professionals, especially within Nigeria and Africa. They have recognized this skill gap in the RE workforce and are set to use their technical resources and educational expertise to help you make a successful career in the Renewable Energy Industry.
Program Details
Designed by foremost international learning expert and dedicated consultants, The Energy Talent Program has been created to support your personal development and career growth as a Solar energy professional. The program offers a blended learning approach that harnesses a mix of online and offline training sessions, including a strong support system that ensures that you are adequately skilled for the global RE market. You will gain practical and technical experience working across projects in the solar industry.
The Energy Talent Program is poised to transform the African economy in the next three decades. They aim to do this by developing high-quality professional energy talent that will lead the energy access transformation in Africa.
Benefits
Three months of practice-based and field training;
Job-placement with top solar companies after 3 months;
Expertly curated learning curriculum;
Accelerated career growth;
Coaching and mentoring;
Learn in a team environment with local and international trainers;
Continuous professional development in the solar industry for 2 years.
Eligibility
A graduate from any of these disciplines: Mechanical engineering, Physics, Architecture, and related fields to the electrical and electronics industry. If you do not have a degree, a level of experience in science, technology and engineering field is considered.
Be resident in any state in Nigeria.
Should be between age 18 and 35
Must have completed NYSC.
Application
Your journey to becoming an expert solar engineer starts here! Apply by July 12, 2021.
For more information, visit Energy Talent Program.