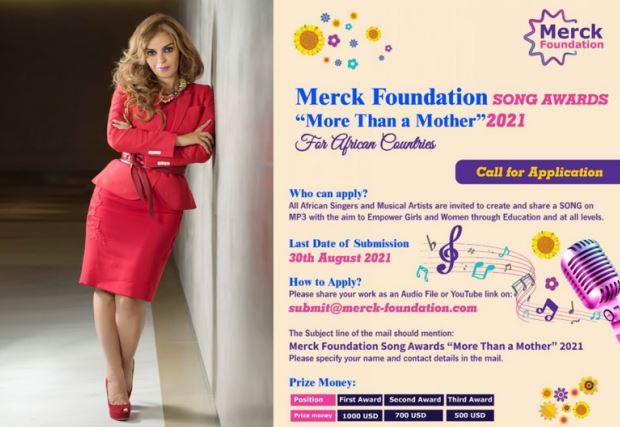 Merck Foundation "More Than a Mother" Africa Song Awards 2021 to Support Girl Education
Deadline: August 30, 2021
Applications are open for the Merck Foundation "More Than a Mother" Africa Song Awards 2021. Merck Foundation, the philanthropic arm of Merck KGaA Germany introduced their new award, the Merck Foundation Africa Song Award 'More Than a Mother' 2021 in partnership with African First Ladies, for all African singers, musical artists and emerging talents, to create a song with the aim to raise awareness about Empowering Girls and Women through Education at all levels.
Merck Foundation strongly believes that Education is one of the most critical areas of women empowerment. Merck Foundation's 'Educating Linda' program helps young girls who are unprivileged but brilliant to continue their education. The spirit of the project is to provide an opportunity to such girls to pursue their dreams and reach their potential through access to education. It has been seen that many girls drop out of school due to lack of necessities such as fees and uniform.
Merck Foundation Educating Linda program has contributed to the future of hundreds of girls in partnership with the African First Ladies as part of 'Merck Foundation More Than a Mother' campaign.
Prize
1st prize: $1,000
2nd Prize: $700
3rd Prize: $500
Eligibility
All African Singers and Musical Artists are invited to create and share a SONG on MP3 with the aim to Empower Girls and Women through Education and at all levels.
Application
Share your work as an Audio File or YouTube link to [email protected] The Subject line of the mail should mention: Merck Foundation Song Awards "More Than a Mother" 2021. Specify your name, country and contact details in the mail.
For more information, visit Merck Foundation.