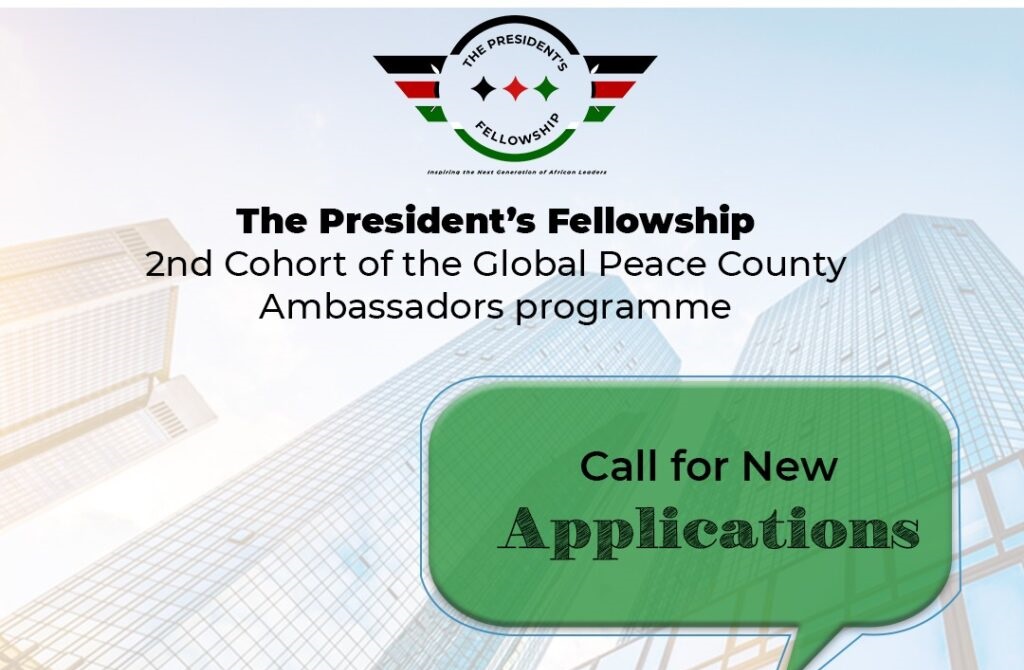 Global Peace Foundation Kenya President's Fellowship 2021
Deadline: October 20, 2021
Applications for the Global Peace Foundation Kenya President's Fellowship 2021 are now open. The President's Fellowship (2nd Cohort of the Global Peace County Ambassadors program) is an annual Young Leadership Development Program aimed at providing opportunity for upcoming and talented young leaders to be mentored and trained through a series of programs and experiences.
The annual fellowship will bring together at least 100 young talented youths from each of the 47 Kenyan Counties. The program includes intensive training, mentorship from community leaders, service programs, professional experience and community exchange programs to promote cohesion in the devolved system anchored on the youth.
The PF program is a competitive selection process looking for at least two President's Fellows from each county (a male and female) based on the initiatives that they are doing in their county/communities to encourage job creation and innovation in solving community challenges.
Eligibility
The President's Fellowship is open to young Kenyan leaders aged between 14 to 35 at the time of application submission, who meet the following criteria:
A proven record of leadership and accomplishment in public service, business and entrepreneurship, or civic engagement.
A demonstrated commitment to public or community service, volunteerism, or mentorship.
The ability to work cooperatively in diverse groups and respect the opinions of others.
Strong social and communication skills.
An energetic, positive attitude.
Demonstrated knowledge, interest and professional experience in the sector/track selected.
Be a resident of the specific county you are applying for.
You have a good level of Kiswahili, English and your mother tongue, and you are aware that language competence will be assessed at the interview stage.
Application
Applications will close on October 20, 2021. Selected applicants will be notified by November 20, 2021 and they will be interviewed virtually in December 2021.
For more information, visit Global Peace Foundation.