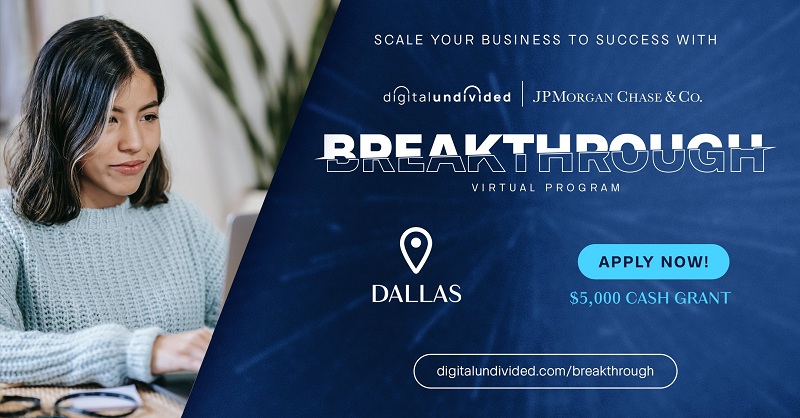 Digitalundivided's Breakthrough Program 2022 for Black or Latina Women Entrepreneurs ($5,000 grant)
Deadline: February 22, 2022
Ready for a BREAKTHROUGH for your business? Apply now for the Digitalundivided's Breakthrough Program 2022 for Black or Latina Women Entrepreneurs.
Digitalundivided's BREAKTHROUGH Program, powered by JPMorgan Chase's Advancing Black Pathways, provides founders with a deeper understanding of their customers, the business model that is right for their businesses, types of funding and how to establish strong banking relationships, and how to connect with local resources.
Benefits
Receive $5k in funding and accelerate your revenue past the 5-figure mark.
Eligibility
Applicant must
Identify as a Black or Latina woman.
Have an established business in the Dallas, Texas area that has been registered for at least 1 year.
Have majority ownership of an established business with demonstrated traction.
Have technology component to their business (website or mobile app).
Generate a minimum of $50,000 annual business revenue.
Application
Applications close February 22, 2022 at 11:59 PM CT. Late applications will not be considered.
For more information, visit Breakthrough Program.