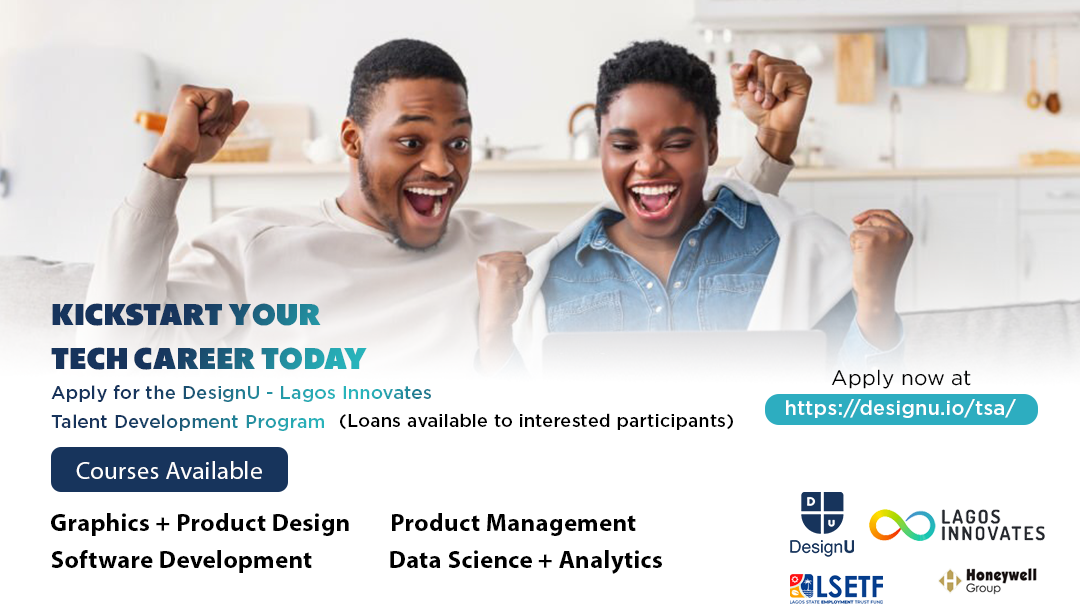 Kickstart your tech career: Apply for the DesignU – Lagos Innovates Talent Development Program 2022 (Funding available)
Deadline: June 30, 2022
Kickstart your tech career: Apply for the DesignU – Lagos Innovates Talent Development Program 2022. Loans are available to eligible participants. DesignU improves the economic outcomes of individuals by equipping them with premium technology skills, business and life skills.
About the Lagos Innovates Talent Development Program
Lagos Innovates in partnership with Honeywell Group is supporting capacity development by facilitating access to tech-focused training programs. The Talent Development Programme funds up to 80% of the cost of program attendance by the highest potential individuals (founders, developers or tech startup employees) active in the Lagos tech startup ecosystem through a student loan program.
Successful applicants of this program will get access to a student loan that can fund up to 80% of the program they enrol for while they take responsibility for the remaining 20%. However, beneficiaries will be required to pay back the loan over a flexible period after they gain employment. Loan Repayment is mandatory.
About the training program
The Talent Development Program equips young people with the skills, resources and information that they need to launch, kickstart, grow a technology career within 6 months or less. Over 50% of the program participants have landed internship, job placement, freelancing gigs, growth and income-earning opportunities within 30 days of completing the program. Their programs have proven to be the perfect platform for young people who want to transform their lives and kickstart a tech career.
Available courses
Graphics design + Product Design
Software development
Product management
Data Science + Analytics
Schedule options
Weekend classes
10 Weeks
Saturdays and Sunday classes
Hybrid classes (Virtual & Physical)
Weekday classes
8 Weeks
Monday, Wednesday, Friday
Hybrid classes (Physical & Virtual)
Venue of classes
Physical classes will hold at DesignU campus in Ogudu GRA, Lagos while virtual classes will hold on zoom.
Benefits
Access to the student loan of #200,000
Access to technical skills training
Access to Soft Skills Training
Access to post program support (Internship Placement for selected participants, Job Placement for selected participants, Mentorship etc)
Exposure into the tech ecosystem
Eligibility
Residents of Lagos State (Must have LASRAA ID)
Availability for the entire training duration
Post-secondary education
Commitment to repay the loan
Access to a laptop
To be eligible for a loan under the Talent Development Program, individuals must be between ages 22 and 40 years. The following documentation are required:
Completed application prefill form
Government issued identification
LASRRA ID (Lagos State Residency Registration) of the borrower
NYSC Certificate as at May 2022
KYC: The person must have a verifiable place of residence and the applicant must be duly registered with LASRRA or possess a permanent voter's card.
Credit Checks: The applicant must have a clean credit record.
BVN: The applicant and guarantor must provide valid Bank Verification Number
Application
See the guidelines here before you apply.
For more information, visit DesignU Lagos.