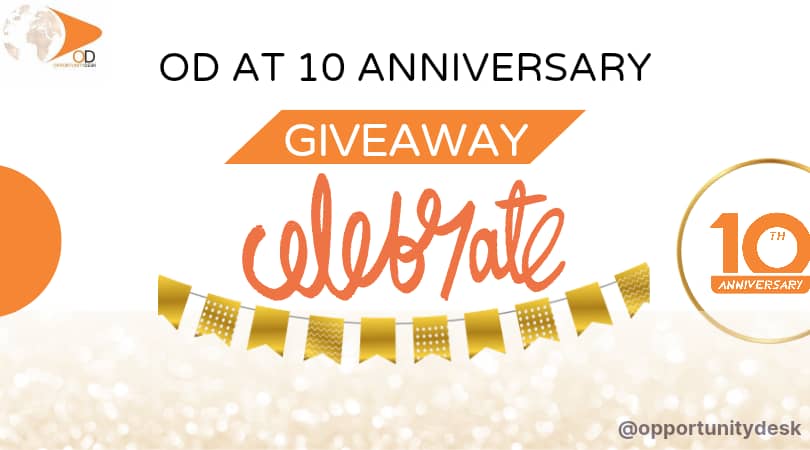 Opportunity Desk at 10 Giveaway: Get Creative and Join the Contest
Deadline: October 9, 2022
Calling all fans around the world to join us as we celebrate #ODat10! Opportunity Desk, the one-stop shop for global opportunities turns 10 on October 10, 2022. In celebration of 10 years of impact, and showing up for you all, we have a line up of activities to celebrate our big day. This Giveaway is one of the ways we want to give back while engaging you.
Opportunity Desk curates global opportunities across various spheres, offering young leaders, scholars, experts and activists a chance to see the world and achieve their personal and professional goals. Established in 2012, Opportunity Desk (OD) has grown to become the largest digital media platform that a digital platform that bridges the opportunity gap for people across the world, by enabling the democratization of information on opportunities for young people working in diverse sectors and countries. These opportunities help to facilitate young people's efforts in exchanging ideas and preparing themselves for the future.
As we serve as a connection to the world for many young people, we are calling on you to share what Going Global means to you!
Benefits
Winners will receive:
$50 Gift card each for top 3 winners.
One month full access to the OD Premium when it launches in late 2022.
A chance to be considered as an OD Ambassador.
Eligibility
Open to anyone from around the world;
Entry must be original;
Only one entry is allowed by an individual.
Application
To participate:
Share a photo on any of your social media profile pages and write a caption on what "Going Global" means to you (100 words max)
Use the hashtags: #OpportunityDeskat10 #GoGlobalWithOD
The 10 best entries will be published on our website and social media platforms. Deadline for application is October 9, 2022 at 11:59 GMT+1.
Join us for the OD Open Day Session on October 10, 2022 by 3pm GMT where winners would be announced. Don't miss it. Click here to register for free.
What are you waiting for? Submit your entries and be one of our lucky winners!