Opportunity Desk (OD) Premium is our new platform, built and designed to give you a maximum experience and benefits. With OD Premium, you get firsthand, personalized information and assistance with finding, applying and securing the global opportunities for you.
Success is for the prepared mind and it is our desire to help you prepare for and secure the best opportunities you can ever dream of — thus securing your future and living your best life with access to global opportunities! Join OD Premium to advance your personal and professional life.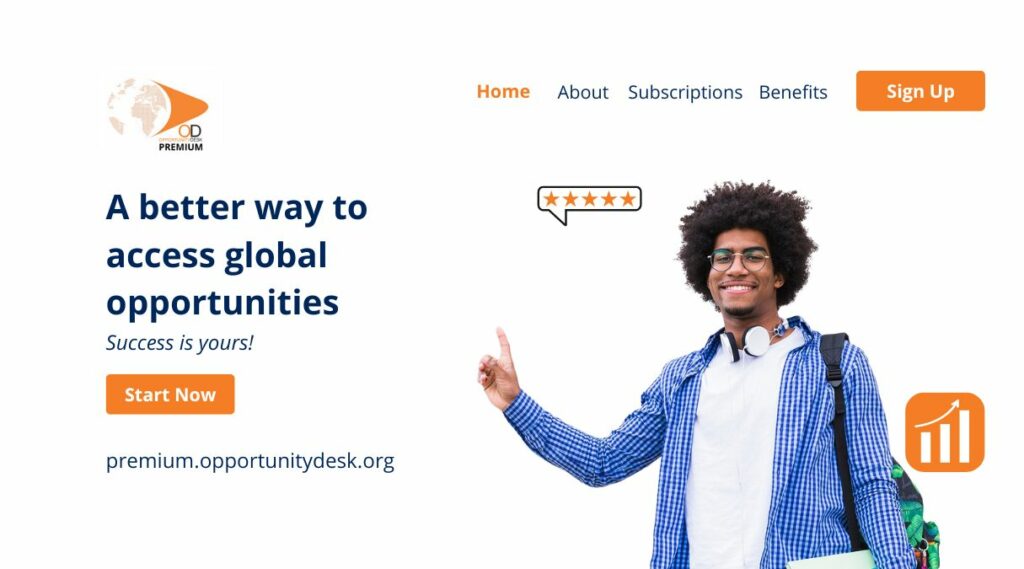 Mission
Our mission is to make fully-funded global opportunities accessible for free on the internet to everyone everywhere. You can support us today by upgrading for a premium experience.
Let's give you the premium experience and reach millions with impact.
---
Basic Access
Free
---
General Opportunities
No Deadline Alerts
Weekly General Newsletters
Premium Access
Your advantage
---
Personalized Opportunities for You
Approaching Opportunity Alerts
Personalized Newsletters
Bookmark opportunities + Set Reminders
Access to Go Global courses, ebooks and webinars
Handcrafted Application templates
Get help from an Expert
Access to OD Exclusive Rewards and Opportunities
Priority Customer Support
---
---
What you get
Searchable database with personalized opportunities
Bookmark opportunities to view at a later date
Customizable reminders and alerts for upcoming deadlines
Application Tips and Resources
OD Exclusive Rewards and Opportunities
Ready to Use Application Templates
Access to Go-Global eCourses, eBooks and Webinars
Get Matched to OD Expert Mentors for Application Review and Guidance to Increase your chances of getting selected (Fast tracked) T&C applies
OD Exclusive Rewards and Opportunities
Access to a global community
Premium customer service support
Going premium gives you leverage. Join the community and get more.