It is that time of the Month again! We are pleased to announce that Diane Mbarushimana from Belgium is our Opportunity Desk Young Person of the Month for June. Diane's life and story is an inspiration. She shares with Opportunity Desk some of the things that inspire her and how she started. Included in this feature is Diane's best advice to youths! We are sure this would inspire you.
DIANE MBARUSHIMANA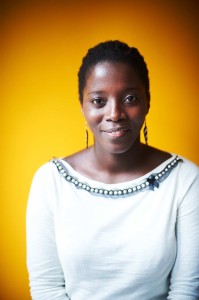 Diane is a 29 year old designer, social entrepreneur and proud mother of one little girl, Malaika. She is a Belgian but was born and raised in Rwanda.  She came to Europe when she was 15 years old. Her journey through life has been a tough one with seemingly no direction but today she is doing what she is passionate about – arts and is making a living with it!
In 2010, Diane created a company called 'Guheka' to make products for parents and young children. Guheka products include baby sling and back sling. Diane says Guheka Baby carrier is a part of her life plan; it is a brand that represents eco-sustainable products for children and has become the most popular product in Belgium and Paris.
How she started Guheka
Diane studied Anthropology and Sociology, and during her last year as a student she had a daughter. So she started to design lots of small items for babies, to welcome her child. When her baby was born, she had designed a baby carrier, the main product of her business. She needed to be able to carry on with her studies and work whilst taking care of her daughter.
She was often stopped on the streets by parents who wanted to know where she bought the baby carrier. According to Diane, "There was a growing demand for the item, so I got the idea that maybe I could earn a living with this."
On what inspires Diane, she says;
I am inspired by life, as I believe in human beings. I'm impressed with what we are capable of doing. Personally, I believe in WOMANITY! I believe in the power of women, of mothers, Africa is my homeland, my Dunia. I grew up lacking a role model, but I hope I will be capable of being one for my brothers and sisters. I think like a woman and act like a woman. I believe in my strengths and weaknesses.
I also believe in giving back! I think Social Entrepreneurship is the key! Growing up, I learned that I have two hands, one to help my self and another one to help others. With my creations I hope to make products that will help human beings give the best of themselves and I want to contribute to make a positive tomorrow, in social inclusion by creating jobs for the ones who need it the most.
I am my own boss. Starting Guheka allowed me to express myself, to do what I like to do and to be in control of my own time. This way I can combine my professional activities and my family life."
Today, Diane works on temporary jobs as a Consultant and Speaker through different organisations like European Commission, British Council. She was chosen as Young Entrepreneur of the Year 2011 , through the European Commission Program, Youth@work .
On her last words for the youth
Something you can loose and never get it back is your Mother, in this case OUR MOTHERNATURE. Cherish and protect her. She can't be replaced. Sky is the limit for everyone. Whatever you do, however you do it , keep on moving. If Plan A doesn't work, it's okay, the alphabet has 25 more letters! Thanks
Find out more about Diane and her company by visiting Guheka website and her Facebook Page.
———————————————————————————————————————————
Who will be the Next Young Person of the Month?
You can be the next Opportunity Desk Young Person of the Month! All you have to do is get a friend to recommend your work or fill out our nomination form here. We want to use the platform to recognize and celebrate the efforts of amazing young people around the world. O! Did I forget to add – that you must be an active Opportunity Desk member, either as a fan, reader or subscriber? Yes!
Don't miss any updates in the future. Join Opportunity Desk on Facebook, Twitter, Group or Subscribe via Email!