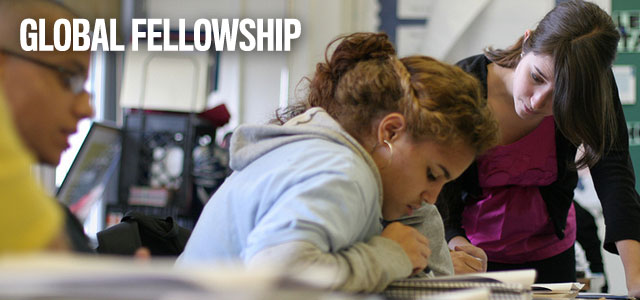 2015 Echoing Green Global Fellowship program for Smart Leaders
Deadline: January 5, 2015
Applications are now open for the 2015 Echoing Green Global Fellowship program. The Global Fellowship is the twenty-seven year-old program for smart leaders who are deeply connected to the needs and potential solutions that may work best for their communities. Any emerging social entrepreneur from any part of the world working to disrupt the status quo may apply.
Echoing Green will provide more than $4.6 million in seed-stage funding and support this year to emerging leaders working to bring about positive social change. From thousands of applicants, only about 1 percent are ultimately awarded a Fellowship. During their first two years, Fellows participate in leadership development gatherings, and will access the powerful network of Echoing Green Fellows, partners, and friends.
Benefits
The Global Fellowship will be awarded annually to individuals or partners who will receive:
A stipend of $80,000 for individuals (or $90,000 for two-person partnerships) paid in four equal installments over two years
A health insurance stipend
A yearly professional development stipend
Leadership development and networking gatherings
Access to technical support and pro bono partnerships to help grow their organization and a dedicated Echoing Green portfolio manager
A community of like-minded social entrepreneurs and public service leaders, including the Echoing Green network of more than 600 Fellows working in over sixty countries all over the world.
Eligibility
In order to be eligible for an Echoing Green Fellowship, you must be:
Over 18 years old
Fluent in English
Able to commit a full 35 hour work week to their organization.
In order to be eligible for an Echoing Green Fellowship, your organization must be:
The original idea of the applicant(s)
In its start-up phase, usually within the first two years of operation
Independent and autonomous
Selection Criteria
Successful applicants not only present an innovative way of addressing social issues, but also explain why they as individuals have what it takes to succeed. Echoing Green is not a grant-making organization. We are a fellowship program because we believe in the importance of the individual social entrepreneur as well as his/her project. As such, we look at both the applicant and the applicant's idea.
Applicant Criteria
Purpose / Passion
Resilience
Leadership
Ability to Attract Resources
Organization Criteria
Innovation
Importance
Potential for Big, Bold Impact
A Good Business Model
For more information, visit the Global Fellowship program.