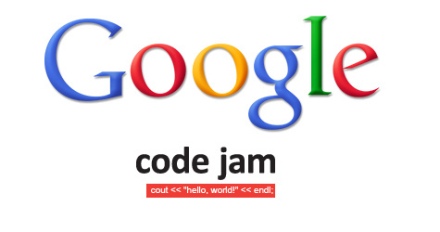 2015 Google Code Jam
Deadline: April 12, 2015
Google Code Jam, a top programming competition in the world, consists of intense algorithmic puzzles held over multiple online rounds culminating in an on-site final round with the top 26 contestants. Registration for this competition opens on March 10, 2015.
Eligibility
Contestants must
 be 13 years of age or older at the time of registration, but you must be 18 years of age or older at the time of registration to be eligible for the onsite final round, if not, you are only eligible to win a t-shirt,
must commit to attending all related organized events as well as the awards ceremony at the end of the Contest,
participants must have access to internet, a valid e-mail address and must be able to communicate in English.
You are ineligible if
you gained information on a problem while working as an employee, intern, contractor, or official office-holder of Google,
you are restricted by applicable export controls and sanctions programs,
you are a current employee (including intern), contractor, officer, or director, of Google or its affiliates,
you are a resident of Cuba, North Korea, Sudan, Syria, or Quebec or anywhere that the Contest is prohibited by law.
Contest Structure
Qualification Round: In the Qualification Round, participants must log in to the Contest website to attempt to solve a number of problems within the 27-hour period.Earning the minimum number of points during the qualification round, which will be displayed on the Contest website, you will advance to Round 1 of the Contest.
Round 1: participate in any or all of the sub-rounds by logging into the Contest website to solve a number of problems until you qualify for Round 2.Top-scoring 1000 contestants  from this round advances to round 2.
Round 2: log in to the Contest website to solve a problem set. Top-scoring 500 contestants from Round 2 to Round 3.
Round 3: log in to the Contest website to solve a problem set. Top-scoring 25 contestants from Round 3 to the final round.
Final Round: contestants will be asked to solve a problem set using only Google-provided computer equipment.Google will send a list of permitted materials by email at least seven (7) days to each finalists before the beginning of the final round.
The final round will be held on Friday, August 14, 2015 at the Google offices in Seattle, Washington, USA.
Schedule
Registration: March 10-April 12, 2015
Qualification Round: April 10, 2015
Online Round 1
Sub-Round A: April 18, 2015
Sub-Round B: May 2, 2015
Sub-Round C: May 10, 2015
Online Round 2: May 30, 2015
Online Round 3: June 13, 2015
Onsite Finals: August 14, 2015
Prizes
T-Shirts: for top-scoring 1000 contestants from Round 2.
Final Round: Cash Prizes
First Place: $15,000 USD
Second Place: $2,000 USD
Third Place: $1,000 USD
Fourth-26th Place: $100 USD
Benefits For Finalists
Google will pay for certain expenses related to your travel to and participation in the final round
Hotel accommodations will be provided for participants
Google will reimburse the cost of meals up to $30 USD per day on days you are travelling to and from the Contest and up to $60 USD per day on non-travel days.
How to enter
Register for google code jam here. Registration opens March 10, 2015 (12:00 PM PT)  and closes April 12, 2015 (8:00 PM PT)
Tips
For more information, visit Google Code Jam