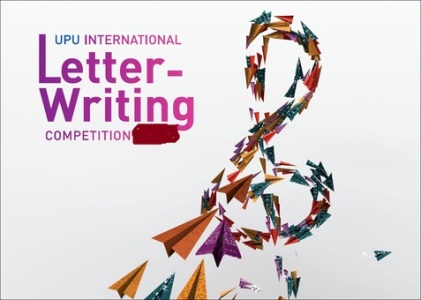 2015 United Postal Union International Letter-Writing Competition
Deadline: April 30, 2015
United Postal Union invites young people between the ages of 9 and 15 to enter for its yearly International Letter Writing Competition. The theme for this year's competition is "Tell us about the world you want to grow up in."
The UPU competition gives youth worldwide an opportunity to express themselves on their hopes for the world we live in, and the possible solutions they see to the issues and challenges facing the planet. The winners will be announced in 2015, just before the UN Summit.
Entry Requirement
All entries must include:
The compositions submitted must be recent, unpublished letters.
Compositions must be presented in the form of a letter ("Dear ……..", include the address of both the addressee and the sender, and end with a signature).
Entries must strictly respect the set theme.
Entries must strictly adhere to the number of words permitted in the original language (between 500 and 800)
Eligibility
Young people between the age of 9 to 15 years may take part in the competition.
The UPU International Bureau (IB) cannot accept entries sent directly by schools or private individuals.
The organizers designated by member countries must respect the competition's organizational principles, which specify that they are solely responsible for organizing the national stage of the competition and therefore must provide all the parties concerned with their own contact details and not those of the IB.
The organizers should select their country's best composition (one composition per country or territory only) and send it to the IB no later than 30 April.
Prizes
The first three international winners will receive medals : gold for the first, silver for the second and bronze for the third.
Certificates would be given to  each winner.
Member countries may also award additional prizes to their international prize-winners, at their discretion.
How to Enter
Download an complete the 2015 ILWC entry form in either English, French, Spanish, Arabic, Portuguese or Russian
Send the following documents to [email protected]:
Completed entry form
a copy of the composition (produced on a computer) in one of the following languages: Arabic, English, French, Portuguese, Russian or Spanish. If the original is handwritten, the competition organizer is requested to reproduce the text on a computer
 a covering letter from the organizing body;
 a translation into English, Spanish or French (as preferred) of the original composition, if it has been written in a language other than Arabic, English, French, Portuguese, Russian or Spanish;
 a good quality digital photograph of the candidate, preferably in JPEG format (300 dpi minimum).
Tips: See 2014 winning letters.
For more information, visit Universal Postal Union