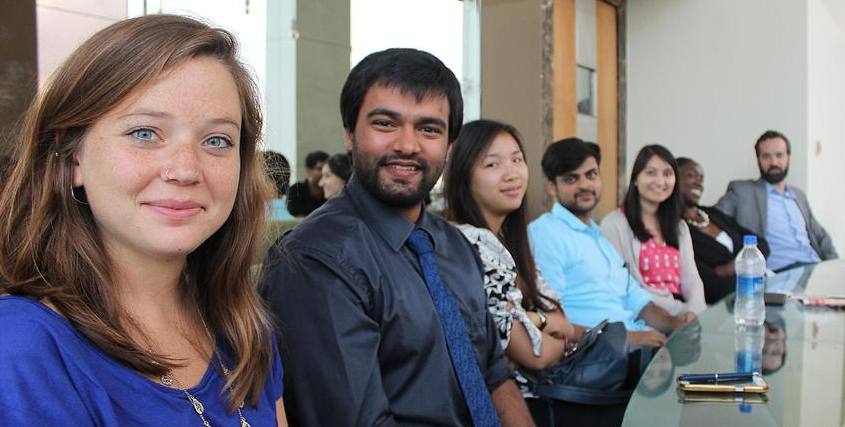 IDEX Global Fellowship Program 2015 – Intrapreneurial Leadership Training in India
Deadline: March 1, 2015
Applications are now open for the July 2015 IDEX Global Fellowship. ​Each year, the IDEX Global Fellows Program invites a select number of individuals to take part in six-months of intrapreneurial leadership training across India. Fellows gain emerging market experience while working hands on with socially-focused enterprises who deliver high impact solutions in local and global communities. Since 2010, the IDEX Global Fellows Program has successfully trained and prepared over 150 college graduates and young professionals from all corners of the world for their transition into high impact careers.
During the Fellowship
During the six-month fellowship cycle, IDEX fellows work full-time with a social enterprise partner (in India), in addition to completing IDEX's Intrapreneur Leadership Training. In the past, Fellows have worked on projects ranging from supporting education organizations in community outreach programs to leading expansion planning for multi-city operations to expanding the networks of a health services company in India to Kenya.
Post-Fellowship
After the Fellowship program, IDEX Fellows continue to pursue social impact careers, with 90% of alumni currently working with socially progressive enterprises such as Gray Matters Capital, Village Capital, Calvert Foundation, Commonwealth Ventures, Bridge International Academies, Ashoka, Omidyar Network, and Unltd India. IDEX continues to support and cultivate our Fellow community long after the fellowship program through the IDEX 2.0 Alumni Network.
Eligibility
Candidates must possess the minimum qualifications to be eligible for the IDEX Fellowship:
Bachelor or Masters/Graduate Degree (BS/BA/BBA must be obtained prior to start of program);
Age limit: 21-35 yeards old
Ability to perform in a high pressure environment;
English fluency (written and spoken);
Ability to legally work in India for six months (IDEX will provide more information on the business visa application process).
Minimum of 1-3 years of professional work experience;
Excellent listening and communication skills (written and verbal).
Applicants should have:
Proven track record of leadership responsibilities;
Demonstrated passion for social enterprise and improving quality of life for low-income communities;
Ability to work in new and challenging environments with limited resources;
Willingness to work with low-income populations in developing economies and demonstrated practical skills in relationship building, cultural sensitivity and thrive in a start-up environment;
High interest in working in emerging markets;
A passion and desire to work in emerging markets and use social enterprise principles to solve global issues;
An ability to quickly adapt and work in resource constrained environments;
Desire to engage in an intense professional development experience while applying; creative solutions to deepen impact;
Committed to make an equity investment of time, energy and capital in their personal growth and professional development.
Cost
Tuition for the 2015 Global Fellows Program is $3,500 USD.  Tuition is payable prior to program orientation. IDEX requires that selected fellows pay a non-refundable tuition deposit of $250 upon acceptance of the fellowship offer.
Tuition covers all educational expenses of the program, including:
Pre-departure orientation
Program mentors (virtual and residential mentors)
All educational modules including leadership programs
Field Orientation (Lodging, meals, transportation from field training location to the fellow's permanent placement city)
Monthly capacity building sessions
IDEX 20/30 Curriculum (includes print and mobile app version) and supporting materials
IDEX Field Support Staff
Post-fellowship support and Alumni network opportunities
Tuition does not cover:
Airfare or travel to/from placement city
Visa costs
Daily living expenses (such as food, utilities and other miscellaneous expenses)
Scholarship and Stipends
Fellows will receive a modest monthly living stipend towards the fellow's cost of living expenses. The amount of the monthly stipend will be based on the cost of living in the fellow's placement city.
Through generous funding from IDEX donors and partners, IDEX is able to a limited number of full and partial scholarships for the 2015 Program to select candidates. All scholarships awarded will be applied towards the fellows tuition and are non-monetary. To learn more about IDEX Scholarships, click here.
Fellows must first apply and be accepted into the fellowship program in order to receive awarded funding.
Scholarship funding will be used towards program tuition.
Scholarships are based on funding availability.
Application submission does not guarantee full or partial funding.
Late applications will not be accepted.
Application Process
Every year aspiring social leaders from across the world apply to become one of the next IDEX Fellows. After a competitive application process, we invite the most promising candidates to become part of our next cohort of social intrapreneur leaders.
To help you get started, we recommend the following:
For more information, visit IDEX Global Fellows Program.