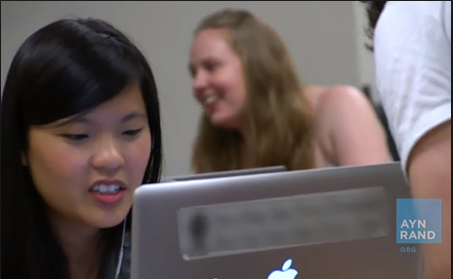 Ayn Rand Institute Summer Internship 2015 – Irvine, California
Deadline: March 29, 2015
Applications are open for the Ayn Rand Institute Summer Internship taking place from June 1 – 19, 2015, at the Ayn Rand Institute's main office in Irvine, California. This fun, rewarding and unforgettable experience will challenge you to think deeply about critical issues and provide you with real-world professional experience.
Are you interested in exploring Ayn Rand's ideas? Apply today to become one of the twenty to thirty college students or recent graduates who come to intern each June at the Ayn Rand Institute in sunny Southern California.
Internship Details
Aimed at students who are new to Ayn Rand, the curriculum explores a significant portion of her fiction and nonfiction corpus, primarily through lectures and small group discussions.
The curriculum is updated each year, but in past years has included:
Philosophy, covering Rand's thought with a focus on her ethics;
Novels, covering the characters, themes and literary aspects of The Fountainhead and Atlas Shrugged;
Liberty, covering such topics as individual rights, government, free-market capitalism and the regulatory state; and
Hot Topics, covering the application of Rand's ideas to crucial issues such as environmentalism, religion, welfare and foreign policy.
Application Essay 
Respond to the following essay prompt (500-word maximum). Use page numbers and include your name in the header of each page. Submit your essay through our document submission manager.
Essay Prompt: In her lecture "Philosophy: Who Needs It," available as a free course in ARI Campus and as an essay in her book Philosophy: Who Needs It, Ayn Rand argues that philosophy is an inescapable need of man. Explain her view, contrasting it with the common cultural refrain "philosophy is impractical."
Benefits
You'll immerse yourself in a three-week educational curriculum taught by Rand experts and gain professional experience contributing to ARI's programs.
You'll also receive a $1,200 scholarship and a $500 travel stipend to assist with living and travel expenses.
Additionally, ARI provides a catered lunch each day and a set of books.
Together these benefits are sufficient to offset most if not all of your typical living expenses during the program.
NOTE:
The internship does not include housing or transportation
Foreign applicants are welcome to apply. However, ARI is unable to sponsor visas for its internship program and is not able provide advice about which — if any — visa an applicant may need to participate in the program. It is the applicant's sole responsibility to ensure that he/she has the proper visa — if any — to participate.
Eligibility
Interns come from a variety of academic backgrounds and careers, and no prior knowledge of, or agreement with, Objectivism is presupposed or required. ARI interns express their views freely in an open, respectful learning environment.
The internship is open to recent high school graduates, college undergraduates and college graduates (recent graduates are typically no more than one year removed from school).
All applicants must be 18 years old, or older, at the time the program begins and must be able to attend for the duration of the program.
Application Process
The Ayn Rand Institute Internship application has three components:
Application essay
Official transcripts via document submission manager.
Deadlines
Early Application Deadline: Midnight Pacific time, Sunday, January 19, 2015. Early applicants will either be accepted or wait-listed and can expect to hear from us by the end of January.
Final Application Deadline: Midnight Pacific time, Sunday, March 29, 2015. Applicants will be notified of our application decision by mid/late April.
Internship Program Dates: June 1 – 19, 2015, at the Ayn Rand Institute's main office in Irvine, California.
For more information, visit Ayn Rand Institute Summer Internship.