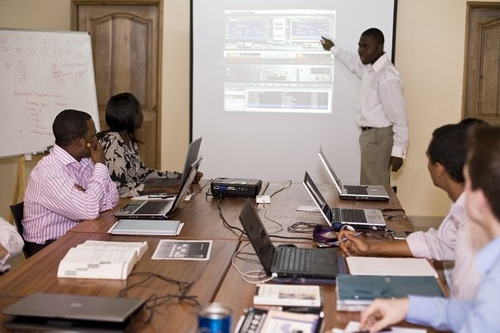 Software Development Teaching Fellowship at MEST Ghana (Fully-Sponsored)
Deadline: April 30, 2015
The Meltwater Entrepreneurial School of Technology (MEST) is looking for candidates with a passion for teaching and a strong background Web and Mobile technology and/or entrepreneurship for a one-year assignment, teaching programming to aspiring software entrepreneurs in Accra, Ghana. MEST provides training, investment and mentoring for aspiring technology entrepreneurs with the goal of creating globally successful companies that create wealth and jobs locally in Africa.
On a daily basis, technical fellows support MEST trainees in developing and executing their technical product development skills. It's an exciting opportunity to expose yourself to real-world problems, help aspiring entrepreneurs learn to build their products right off the ground and learn new technical and project management skills.
Duration
Start Date in Ghana: August 1st, 2015
End of Assignment: 31st July, 2016
Benefits
Invaluable work & life experience in an entrepreneurial organization working to make a difference
Teaching experience; International work experience
A chance to make a significant impact- transfer knowledge and skills to talented Africans who will set up software companies
Develop relationships with Africa's future leaders
Compensation
US$1000 Monthly stipend
Travel, Housing, Meals and Emergency Health Insurance provided by MEST
This is a unique opportunity for you to be part of a team that is developing an unprecedented technology generation in Africa!
Qualifications
Experience building applications in an agile language and framework such as: Ruby, Rails, Python, Django, Javascript, node.js, Meteor, Java and Android, iOS
Ability to design and architect complex software programs, and maintain them over time.
Real world (such as in a start-up) experience building products with a keen eye for design and user experience.
Experience managing software projects and teams using project management tools.
Ability to learn new languages and frameworks quickly and be of assistance to teams using them.
Interest and/or passion for teaching and technology; experience would be an asset.
Ability to work in a team, and to deal with ambiguity
Good verbal and written communication in English; good presentation skills
People with network and system administration experience are encouraged to apply.
Requirements
Experience building applications in an agile language and framework such as: Ruby, Rails, Python, Django, Javascript, node.js, Meteor, Java and Android, iOSplus
Relational databases and SQL
Object-oriented programming and design
People with network and system administration experience are encourage to apply
Responsibilities
Be part of the faculty and actively participate of the daily training of MEST students
Prepare and deliver lectures and labs on technical topics
Grade and evaluate technical deliverables
Tutor students one-on-one in programming fundamentals
Help determine topics and requirements of project assignments
Research options and assist project teams with technology selections
Provide technical support on software development tools such as IDE's, source control, bug tracking
For more information and to apply, visit MEST Software Development Teaching Fellowship.