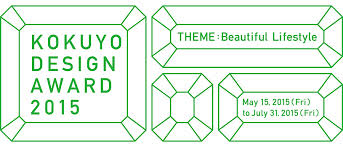 2015 Kokuyo Design Awards – up to 2,000,000 Japanese Yen for grab!
Deadline: July 31, 2015
Applications are invited for the Kokuyo Design Awards 2015. The Kokuyo Design Awards is a competition to attract beautifully functional product designs, taking the best of the best to the actual consumer market. The theme for the 2015 edition is "Beautiful Lifestyle". Living with beautifully designed products can bring the incredible joy, especially when they are a part of our daily lives, with products such as furniture and stationery.
That is why designs for stationery products and furniture, never before shown publicly, are eligible for submission and will be evaluated against six criteria.
Beautiful Form;
Functionality;
Novelty and Innovation;
Thematically Appropriate;
Designs based on daily life observations;
Marketability.
Awards
The Grand Prix for 2015 is 2,000,000 Japanese yen (more than $16,000) and will be awarded together with three Merit awards of 500,000 Japanese yen.
The contest organizer will pay expenses incurred by participants for travel and lodging (up to two individuals for group entries).
Eligibility
Open to Corporations, organizations, individuals, and groups.
Application is not restricted to any age, sex, professional background, or nationality.
Minors must have a parent or guardian sign a letter of consent before prizes may be given.
The contest organizer retains all rights related to contest exhibition or publication.
Submissions must be the original work of the entrant. Submissions cannot have been made public (in Japan or overseas) before or concurrent to this contest.
Application Process
Register online.
Work submission is possible online or by regular mail to:KOKUYO DESIGN AWARDS Office,
AXIS Bldg. 5-17-1 Roppongi, Minato-ku Tokyo 106-0032, Japan.
Designers passing initial judging will give a presentation to the panel using a Brush-Up Presentation Sheet and a Design Model. Winners will be posted on the Kokuyo Design Awards website after the conclusion of the official announcements.
For more information, visit Kokuyo Design Award 2015.