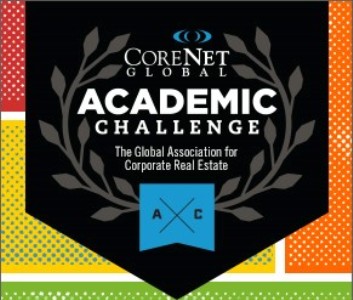 2015 CoreNet Global Academic Challenge – $20,000 USD In Prizes
Deadline: July 31,2015
CoreNet Global, the world's leading association for corporate real estate (CRE), is launching its first-ever Academic Challenge. Students from around the world are invited to think creatively about a problem facing CRE professionals in companies like Google, AT&T, Duke Energy, AstraZeneca, Whirlpool, or many others. Your innovative ideas could help CRE departments in large corporations solve a problem. This Challenge is aimed at  raising the awareness about  Careers in CRE and the impact of corporate real estate on the global economy.
This is designed to attract students from all academic disciplines to tackle key challenges facing the profession.
The Challenge
For purpose of this competition you can assume that you are leading the corporate real estate department of a large multinational corporation in either the financial service, high-tech or manufacturing sector. The C-Suite has mandated that the entire enterprise must develop strategic agility as a core competency. Key for the corporate real estate department is that the enterprise must have the ability to reconfigure business systems, redeploy resources rapidly and make fast, effective decisions.
You and your team must develop a new strategy for management of the entire real estate portfolio that provides the enterprise with all of the required space and develops the resource fluidity requested by the CEO.
Your solution can include changes to how real estate is acquired, held, used and liquidated. It can include changes to how employees work and the work environment. It can include, for example, the introduction of novel technologies, corporate policies, and financial structures. It should address how your solution will impact other parts of the business including HR, IT, Finance, Legal and Procurement.
Eligibility
The Challenge is a worldwide competition for students of all disciplines pursuing a Bachelors, Masters or PhD-level qualification, or the local equivalent, at a recognized degree awarding institution on a full-time or part-time basis.
Students must be registered with their home institution at the time they submit materials for Round One of the Challenge.
Employees of CoreNet Global and their family members, and its Board of Directors are not allowed to enter the Competition. Students currently involved in an internship, apprenticeship or summer placement with CoreNet Global are not eligible to take part in the competition.
 Awards
The winning team will receive $10,000 to be equally divided between registered team members.
Additionally, the host institution of the winning individual or team will be awarded a grant of $10,000 to support the study of corporate real estate, or related subjects.
For the final round only, CoreNet Global and its sponsors are generously providing all travel expenses (coach airfare, lodging during the competition and Summit only, airport transfers, and most meals); participants should anticipate additional expenses and plan accordingly.
Selection Criteria
A panel of corporate real estate experts (practitioners and/or academics) will serve as judges.These judges will evaluate all team submissions and rank those teams based on the following:
Innovation & Creativity.
Applicability & Feasibility.
Value Creation.
Quality & Clarity of Presentation.
How to Enter
Online Registration
The final registration date is 31 July 2015. Once a registration is completed, a registration confirmation email will be sent to the Team's Primary Contact. There is no fee to register and teams may only register once.
Round One Submission

To complete Round One each team must submit the following (all "page" mentions refer to a standard A4 or equivalent document):

A one-page executive summary using 11-point Arial font with one-inch margins.
A written submission up to five pages using 11-point Arial font with one-inch margins.
Up to five exhibits (one page per exhibit).
One multimedia presentation up to five minutes in length (Slideshare, YouTube, etc.)
The deadline to submit your materials for Round One is 31 July 2015. Instructions on how to login and use the Academic Challenge collaboration portal and submitting your materials will be emailed to each member of the team.
Final Round
The top three (3) individuals or teams will be publicly announced on 14 September 2015.
The Final Round will take place on Sunday, October 18, 2015 in Los Angeles, California, the day before the beginning of the CoreNet Global North American Summit. The order of presentations will be determined by the Challenge. Finalists will present in front of a panel of judges, as well as an audience of CoreNet Global members, sponsors, and guests.
Presentations may take up to, and no more than 20-minutes.
Following each presentation, judges will be allowed 20 minutes to ask the team direct questions.
Following the conclusion of the Final Round, the judges will deliberate privately and select a winner. The Challenge winner will be announced at the North American Summit Recognition Dinner on Tuesday, October 20th.
Important Dates
Registration Deadline/Round One Submissions Due – 31 July 2015
Teams to Confirm their Final Round Participation – 11 September 2015
Challenge Finalists Announced – 14 September 2015
CoreNet Global Academic Challenge Final Round (Los Angeles, CA) – 18 October 2015
Awards Presentation & Recognition Dinner (Los Angeles, CA) – 20 October 2015
For more information, visit CoreNet Global or e-mail [email protected]