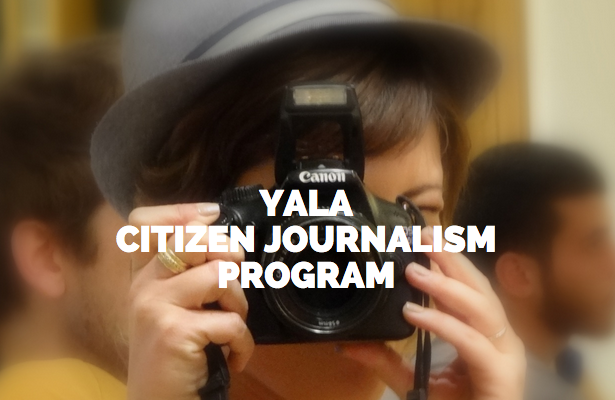 Apply to become a YaLa Citizen Journalist 2015
Deadline: August 17, 2015
The YaLa Academy's Aileen Getty School of Citizen Journalism invites you to undergo a 4 month training program (starting in September 2015), including weekly online classes and seminars to help you become "citizen journalists." Make your voice heard. Learn from journalists and social media experts and become a Citizen Journalist.
This is a ground-breaking peace studies program to supply the young leaders of the Middle East & North Africa (MENA) region with the necessary tools to create a future of self-sustaining and durable peace.
About the Program
The YaLa Academy's Aileen Getty School of Citizen Journalism brings together leading journalists and new media experts to train 100 Middle Eastern youth per semester in basic journalism techniques, photo- and video-journalism and mobile activism. Building off a program launched in 2014 in partnership with the U.S. Institute of Peace, the program is a unique online program focused on new media communication and peacebuilding. In a region where media is too often a tool for nationalism, division and fear, YaLa citizen journalists will be empowered to tell a different kind of Middle Eastern story.
The curriculum will be comprised of online lessons from experts in the fields of journalism, social media, and cyber activism, providing both theoretical and practical approaches to the field. Students will be asked to write blogs, run interviews, and take photos and videos. Students will be required to take part in bi-monthly live chat sessions and to be part of a private Facebook working group. Committing to the program means that participants will be active on their working Facebook group, submit 4 mandatory assignments and regularly check their emails.
The internet allows the voices of civil societies to be heard globally; a power once reserved for only the largest media and news corporations. We must make the best of this opportunity.
The curriculum will train the participants to become experienced citizen journalists through mainly utilizing the blogging platform, by submitting and peer-editing their own blogs. The peer-editing component serves as an additional base for dialogue. Blogs will focus on issues important to MENA youth, such as gender, identity, politics, social justice, and culture.
Eligibility and other information
Students must come from the MENA region (Middle East and Northern Africa).
Applicants should be between the ages of age 17 to 36 years.
Be part of a network of young, trained, informed citizen journalists in the MENA region who are actively engaged in dialogue, as well as in the promotion of understanding and peace through journalism.
The program will be held in English.
How to Apply
For inquiries, you can write at [email protected] and look at this video featuring the highlights of the program.
For more information, visit YaLa Citizen Journalism.