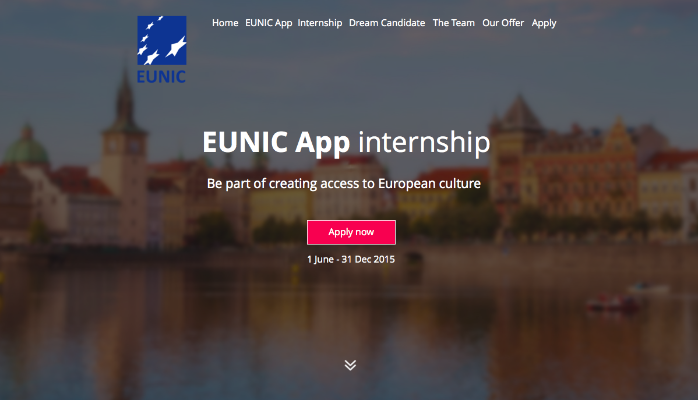 2015 EUNIC App Internship – Prague, Czech Republic
Deadline: August 31, 2015
Do you believe that European culture should be easy to find? Ideas overlap! Your challenge will be find the best way to promote EUNIC App in Prague. EUNIC App unites European cultural events in one app, showing them as a list and on a map. Interns will be in constant contact with language centres and embassies of 16 European Union countries in Czech Republic, helping them cooperate in the area of cultural diplomacy. You need to be brave to suggest and bring to life ideas that will make EUNIC App the culture app of choice for European events.
Interns are expected to work 10 hours per week, having regular meetings with the international team. If you are applying for Erasmus+ or Leonardo da Vinci scholarship, you will be provided with all the necessary support. The internship period is from September 1 to October 31, 2015
Benefits
Work in a young, multilingual team who built the app from scratch.
Be part of defining EUNIC App strategy and vision.
Action from day one
Create and innovate
Eligibility
Candidate should have
Strong command of English.
Knowledge of how social media works.
Basic understanding of what design is about.
Ability to work independently at a distance.
Experience with universities and Erasmus students.
Unstoppable passion for culture!
Application Process
Share THREE ideas on how to promote EUNIC App.
Attach your CV.
Send it to eunic.app(at)eunicapp.eu.
Successful candidates will be contacted for an interview with their team in Prague.
For more information, visit EUNIC App Internship.