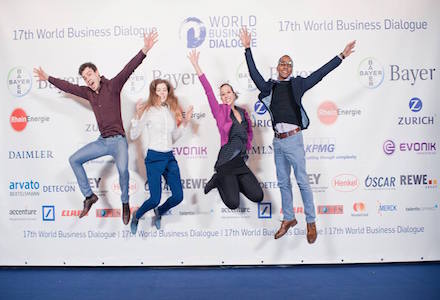 Become a Delegate at The World Business Dialogue 2016
Deadline: October 5, 2015
Applications for the World Business Dialogue (WBD) is currently open!  The World Business Dialogue is the world's largest international student-run business convention. Each year, the leaders of today and the leaders of tomorrow come together in Cologne, Germany and join a cross-generational and cross-cultural discussion. 100% student – 100% voluntary – 100% professional. WBD unites internationality, networking, innovation and working experience in one conference once a year. The next World Business Dialogue will take place in March 14th-18th, 2016 and it is titled: GLOBALISATION: DISRUPTED?
Eligibility
This is open to all students worldwide.
How to Apply
Create an account here.
To become  delegate:
Explain your motivation to take part in the conference, submit your CV, transcript of records and give us some information about your work experience (if you already have some).
All convincing applicants will be invited to a short Skype interview with a member of the International Relations department.
To join a dialogue project:
If you are keen to join one of the Dialogue Projects, simply apply for World Business Dialogue 2016 as usual. Within the application form you will be asked if a Dialogue Project is interesting for you. Just tick the box and you will be asked to write a short essay about the topic provided.
For more information, visit the World Business Dialogue or e-mail [email protected]