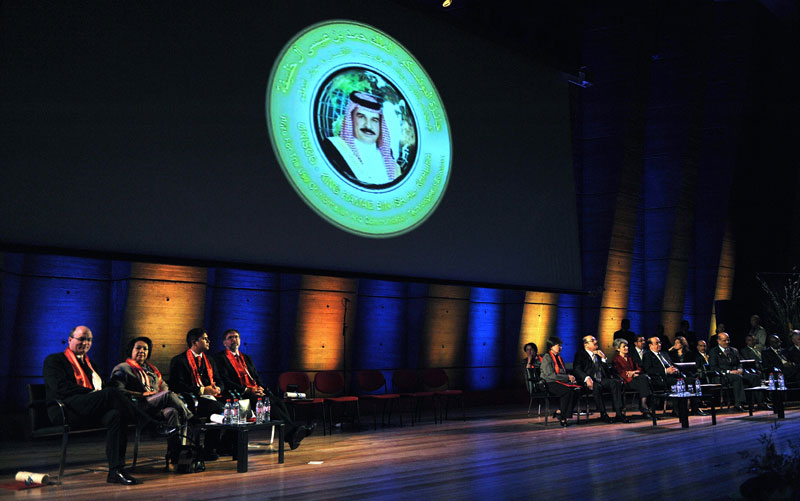 UNESCO King Hamad Bin Isa Al-Khalifa Prize – Monetary Award of USD 25,000
Deadline: November 10, 2015
The UNESCO King Hamad Bin Isa Al-Khalifa Prize for the Use of ICTs in Education, funded and established since 2005 by the Kingdom of Bahrain, rewards individuals, institutions, and Non-Governmental Organizations for projects and activities which demonstrate best practices in, and creative use of, ICTs to enhance learning, teaching and overall educational performance. It is UNESCO's only prize in the field of ICT in education and seeks to recognize the organizations and individuals that are embracing ICT as a pedagogical ally and, in turn, make learning more effective.
While acknowledging the importance of teaching innovations supported or enabled by ICT, it is essential that innovations ensure the security of children and promote the values and attitudes that are relevant to the building of sustainable and peaceful societies. The theme for the 2015 Prize is Pedagogical Innovation in the Use of ICT in Teaching and Learning.
Prizes
Two prize winners will be designated by UNESCO's Director-General on the basis of the recommendations of an international jury.
Each winner will receive a diploma and a monetary award USD 25,000.
Winners of the 2015 Prize will be announced and awarded during a ceremony at UNESCO Headquarters in Paris in early 2016.
Eligibility
The Prize shall be awarded to individuals, institutions, other entities or non-governmental organizations in recognition for projects/activities demonstrating effective and innovative use of ICTs, which:
Have a multiplier effect at local, national or regional level by reaching the greatest possible number of learners and raising the quality of teaching and learning.
Result in the development of original teaching and learning materials/products which promote a learner-centered pedagogy and encourage colloboration and networking in an open and flexible environment.
Mainstream the use of technologies in education and their seamless integration into the curriculum at all levels and across disciplines.
Promote the development, adaption, dissemination and reuse of open educational resources.
Encourage research and development to facilitate accessibility of technologies for all, including marginalized, disadvantaged and vulnerable people
Address major digital and gender divide issues at local, national or regional level.
Application Process
Applications are made by national governments or international non-governmental organizations, maintaining formal consultative relations with UNESCO which are requested to consider the following steps:

Widely inform all stakeholders involved in ICT-enhanced educational activities about the Prize (public/private educational institutions; local newspapers, radio and TV companies; private companies);
Set up a selection committee or panel to screen the candidates.
Select the most deserving candidates and work with them to prepare files for submission to UNESCO.

Download Submission Form and Application Guidelines.
To submit your application, please contact your National Commission or an International NGO maintaining official relations with UNESCO and working on the themes covered by the Prizes.
The nominations should be sent through your permanent Delegation to UNESCO or your organization to the address below, which can be contacted for any further information:

UNESCO
Unit for ICT in Education
(Secretariat for the UNESCO King Hamad Bin Isa Al-Khalifa Prize for the Use of ICTs in Education)
Division for Policies and Lifelong Learning Systems
Education Sector
7, Place de Fontenoy
75352 Paris 07 SP
France
Tel: +33 1 45 68 21 06
Fax: +33 1 45 68 56 27
E-mail: [email protected]
For more information, visit UNESCO Prize for the Use of ICT in Education.