Deadline: April 21, 2016
Applications are now open for the 2016 Technovation Challenge. This is a global technology and entrepreneurship competition that challenges girls worldwide to create an app to address a community problem or issue. This is an opportunity for girls to become technology entrepreneurs and develop mobile app prototypes that solve a real problems in their local communities.
Technovation encourages the use of MIT App Inventor for beginners to develop mobile app prototypes for Android devices. However, final app submissions may be developed on any platform including iOS, Google Glass, and Windows phones. Submissions must be developed and designed for mobile devices.
Technovation is a program of Iridescent, a 501c3 organization.
Competition Divisions, Awards and Benefits
Ten (10) finalist teams will be selected to attend the World Pitch events taking place from July 10th to 17th 2016 in San Francisco, CA.
Primary School Division: Girls who are 14 years old and younger.

For 2016, four teams will be invited to present at World Pitch in San Francisco.
One team will win $10,000 in seed funding to help them launch their app.

Secondary School Division: Girls who are 14 -19 years of age.

For 2016, six teams will be invited to present at World Pitch in San Francisco.
One team will win $10,000 in seed funding to help them launch their app.
How It Works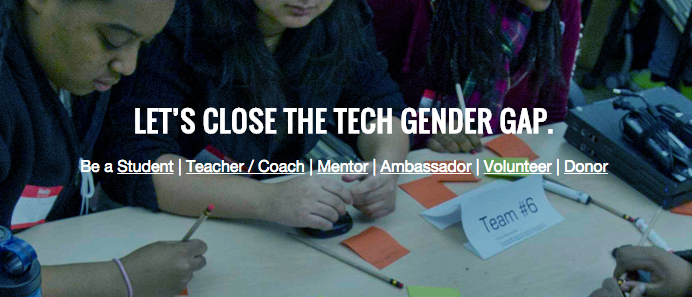 Students:
Teams of up to 5 girls work together to research, design, and build a mobile app prototype, working with a female mentor in technology or engineering.
They commit 40-60 hours: 4 guided hours per week from Jan through Apr 2016
Then they pitch their apps to prospective investors and receive feedback and ideas from technology industry professionals.
Coaches:
Technovation Coaches are school teachers, parents, or community leaders.
They recruit teams of girls to participate in the program, provide a safe space with internet access where they can work, coordinate with the mentors, and supervise the girls through their Technovation journey.
Mentors:
Mentors are professional and postgraduate women who feel comfortable learning new technologies and are passionate about helping girls become leaders.
Girls look to their mentors as role models on how to overcome obstacles during and after their Technovation journey
Eligibility
Participants must be young women 18 years or younger, who are students enrolled in Primary or Secondary School or an After School Program on the day of the submission deadline.
University students are not eligible.
Each Technovation Team includes from 1 to 5 participants. Teams consisting of more than 5 participants are ineligible for their respective division prizes.
In addition to the Participants, Technovation Teams may also include one or more Technovation Teachers and Technovation Mentors.
No prior coding or app development experience is necessary to be a student, coach or mentor.
How to Apply
Completion of all 4 steps below qualifies as a full registration for Technovation 2016.
Create an account at my.technovationchallenge.org (if you are registering for the first time). If you have registered for a previous season, you may reuse your login credentials.
Have the appropriate consent forms signed.
Complete the pre-survey.
Attach yourself to a team.
A complete submission from a team consists of the following items.
App source code (can be developed in Android, iOS, or Windows)
Up to 4-minute video pitch (upload to YouTube or Vimeo and share the link)
Up to 2-minute app demo video (upload to YouTube or Vimeo and share the link)
Business plan (pdf)
Team photo (with mentor and teacher included, if possible) for each team
100-word app description
Completion of post-survey
Deadline
For 2016, Technovation will not enforce a registration deadline. However, there will still be a submission deadline. The Submission Deadline is April 21st, 2016 at 5pm PT.
Some Good News!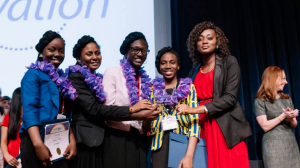 Last year, Opportunity Desk (OD) founder, Grace Ihejiamaizu, participated as a coach for Team Charis and they won the 2015 Technovation Challenge in the highschool division. Read all about it here and be inspired to join the competition this year.
"It doesn't matter if you're a man or woman, anyone can learn how to code and build a mobile app that solves a problem; Technovation girls have proven it" – Grace Ihejiamaizu.
Are you ready to be a part of the movement and see what you can create? Register now!
For more information, visit Technovation Challenge.