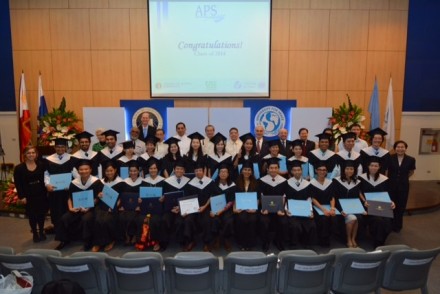 Asian Peacebuilders Scholarship 2017-18 (Fully-funded)
Deadline: August 15, 2016
The Asian Peacebuilders Scholarship (APS), a Dual Degree Master of Arts Programme, is a shared initiative of The Nippon Foundation, the UN Mandated University for Peace (UPEACE), and Ateneo de Manila University (AdMU). The objective of the programme is to train young Asian professionals to become peace building practitioners, ready to take up leading positions in organisations across the globe. In particular, the programme serves to strengthen the representation of Asian professionals with expertise in Asian issues
The APS takes the format of a dual-degree, 18.5 – 21.5 month (depending on entry English proficiency level) intensive academic study programme targeted for young professionals from Asia.  Academic study takes place in Costa Rica and The Philippines and is made up of the following elements:
an intensive language learning component,
MA at UPEACE,
MA at AdMU in Political Science, major in Global Politics, and
the implementation of a field project.
Eligibility
Applications are accepted from students all over Asia, with preference given to students who:
Have at least 2 years work experience in a relevant field. Excellent candidates with less work experience are considered for participation on a case-by-case basis. Voluntary work, internships and student activities may be considered as work experience, if relevant for the programme.
Have Bachelor's degree from a reputable institution.
Demonstrate a compelling desire to work on issues related to peace and conflict.
Demonstrate a commitment to learning in an international and multi-cultural environment.
Are from countries where English is not widely spoken, particularly, but not limited to, Japan, Laos, Thailand, Vietnam, Myanmar, Indonesia, Cambodia, Sri Lanka, and the Philippines.
Scholarship Worth
Students selected to participate in the APS programme receive a full scholarship that covers tuition, airfare, transit and some visa costs for all programme components, and a monthly stipend.  The programme facilititates up to 30 students per cohort.
How to Apply
In addition to online application, the applicant must submit the following documents:-
Statement of purpose
Letters of recommendation
Official undergraduate transcripts and copy of diploma: Transcripts
Undergraduate/bachelor's degree
Curriculum vitae (CV) or résumé
Copy of passport
Marriage certificate (if applicable)
Passport size photo.
For more information visit University of Peace APS