Deadline: May 5, 2016
Climate change is a fact that no one can deny anymore. But it is a fact we can do something about. Action Connected, with World Merit, wants to catalyze tangible, quick-impact concepts to respond to United Nations Sustainable Development Goal 13: Climate Action. Young & motivated youths around the world are invited to plan & execute a project that would tackle climate change!
How it Works
Identify a climate problem and upload a draft project plan on the World Merit platform.
 After having your plan be reviewed and edited, upload your project plan to Action Connected platform.
Try to close Action Connected's 'Equitable Impact Project Cycle' by identifying funders, implementers and beneficiaries for your idea. Find out more here.
Raise awareness of the need of your idea; engage with stakeholder, spread the word on social media.
Get funding for your project idea.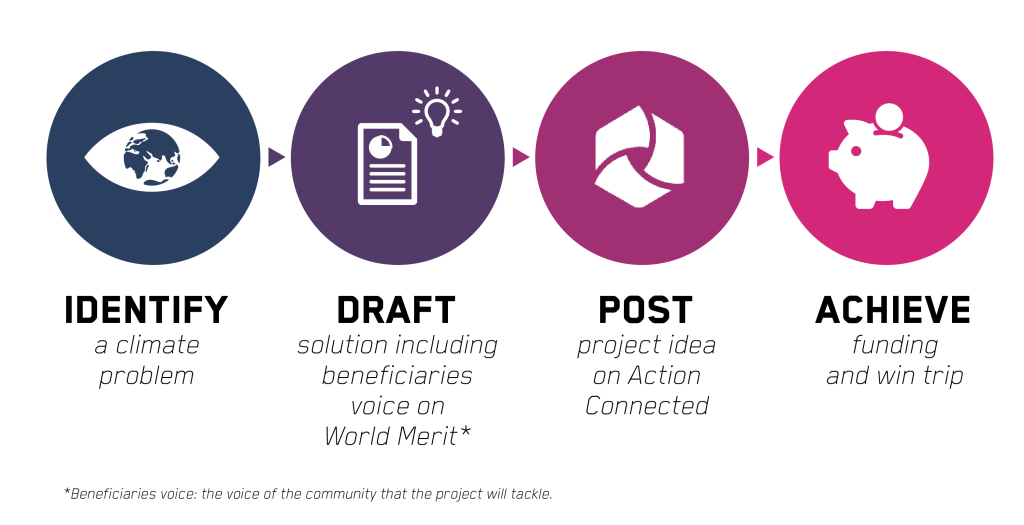 Awards
The three participants in the Youth Climate Action Challenge with the highest Action Connected scores scores will become Action Connected Ambassadors and will receive three fully funded scholarships to join Merit360 in NYC. Flights and accommodations are included. Winners will be assigned a mentor through Action Connected to support the rapid start-up of their projects, which they will share with the larger World Merit community during the Merit360 event. These 3 winners will participate in the SDG13 group.
The three runner ups will be eligible for the following opportunities: 6-month remote Fellowship with Action Connected, 1-year mentorship program with Action Connected Advisory Board Member, and your project as a featured case study on Action Connected Website.
How to  Enter
See entry instructions on the  World Merit website.
Each of the applicants need to complete their profile, project idea (including processed feedback) and at least one commitment of funding through Action Connected's platform.
For more information, visit World Merit Climate Change Challenge or e-mail inquries [email protected] or[email protected]