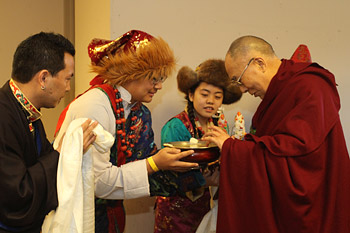 2016 Dalai Lama Trust Graduate (MA and PhD) Scholarship
Deadline: April 22, 2016
The Dalai Lama Trust, Washington, DC, is pleased to announce its sixth round of annual graduate scholarship grant for the academic year 2016. The purpose of the scholarship program is to further the human capital development of the Tibetan people by supporting the pursuit of excellence among Tibetan students in a field of graduate studies of their choice.
Scholarship
Scholarship awards of up to US$10,000 available for ten to fifteen exceptional candidates.
Eligibility
Applicants must be into a graduate degree program in a university in Europe, Australia or the Americas.
Applicants must also demonstrate proof of Tibetan heritage.
Tibetan students residing in India/Nepal are especially encouraged to apply.
Application Process
Read the following Graduate Scholarship Application Guideline or Graduate Scholarship Renewal Application Guideline before beginning application.
To apply an applicant must have a Gmail account and complete the online application form in English  or in Tibetan. 
Current awardees of the program who wish to renew their scholarship are required to submit a separate renewal application.
Receipt of application will be acknowledged by email. Selected applicants will be contacted for a Skype or phone interview.
For questions, please contact [email protected].org
For more information, visit Dalai Lama Trust Graduate Scholarship.