Deadline: June 30, 2016
The International Association of Traffic and Safety Sciences (IATSS) is now accepting applications from young and outstanding individuals from 9 ASEAN counties to participate in the 57th and 58th IATSS Forum Program. IATSS Forum provides a leadership training program for promising young people from ASEAN countries.
The IATSS Forum is an international training institute established in 1985 that aims to bring out the best qualities in individuals who will one day become future leaders in the ASEAN region. The IATSS Forum provides a place where young professionals can gather. The Forum provides opportunities for participants to understand each others' countries through seminars, field studies, group study, and cultural exchanges, as well as to make efforts to solve current issues in the ASEAN region and Japan, under the motto "Thinking and Learning Together."
Program Dates:
57th IATSS Forum: *May – July, 2017 (57days)
58th IATSS Forum: *September – November, 2017 (57days)
Benefits
The IATSS Forum pays for the round trip airfare, participation fees for the program, accommodations, and almost all food expenses, etc. Participants need to pay for their personal expenses.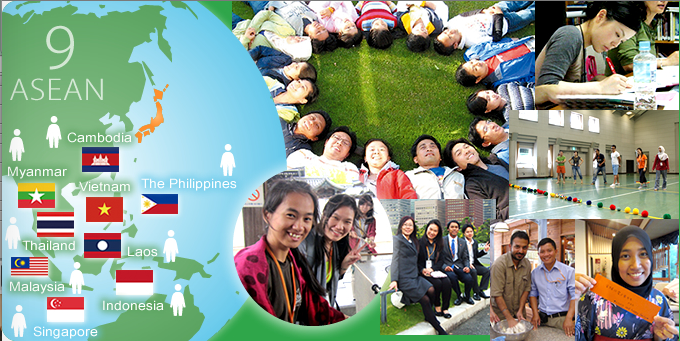 Eligibility
Applicants must be from one of the below mentioned countries and possess the physical and mental capabilities necessary to participate fully in program activities.

Cambodia, Indonesia, Laos, Malaysia, Myanmar, Philippines, Singapore, Thailand, Vietnam

Applicants should be 35 years old or younger at the time of the closing date of the application.
Applicants should have at least 2 years of full-time professional job experience at the time of the application and be eligible for reinstatement to his/her current position after completing the program.
Applicants should have sufficient English skills and cultural adaptability to live and study abroad.
Applicants must travel to Japan unaccompanied.
Communications will be based in English.
Participating Countries
Cambodia, Indonesia, Laos, Malaysia, Myanmar, Philippines, Singapore, Thailand, Vietnam
Application
Application documents: All documents are to be sent to the applicant's Country Secretariat.
IATSS Forum application form (A4 size)
2 essays (A4 size)
1 photo (4 cm x 3 cm, name on the back)
2 recommendation forms (A4) (One of them should be your direct supervisor at your present job)
Certificate of English Proficiency (if possible)
Please carefully read the application booklet before completing the application form.
Selection
There are two screenings and an interview.
Initial Screening : (July, 2016) Examination of application documents by the IATSS Forum Country Committee
Second Screening: (August-September, 2016) Examination of application documents by the IATSS Forum Steering Committee in Japan
Final Interview: (November to December, 2016) Interview with prospective applicants by the IATSS Forum Steering Committee and the IATSS Forum Country Committee, in their country
Note:
Only those applicants who have successfully passed screening at each stage will be contacted.
Schedule subject to change.
We can not guarantee which season's forum you will be able to participate in.
For more information, visit IATSS Forum.