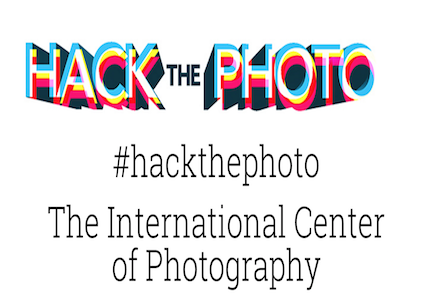 ICP Hackathon 2016 (#hackthephoto) – New York, USA
Deadline: April 27, 2016
The International Center of Photography invites photographers, filmmakers, developers, designers, journalists and visual artists to come together and collaborate on the future of storytelling. 
#hackthephoto is a 24hr challenge designed to push innovation in the photography and ever changing media landscape. It's all about connecting creative and ambitious minds with the necessary tools to foster collaboration. Participants are encouraged to come up with creative projects and bring them to life. Final projects will be judged based on creativity, technical use, disruptiveness and usefulness. The best projects will receive prizes.
This challenge will take place at the International Center of Photography, April 30th through May 1st 2016 10 am – 9pm
Categories
Content Creator: Apply as a content creator. You have a project in mind which you would like to develop #contentcreator #photographer #filmmaker #artist #storyteller #documentary #journalist
Designers & Creative Technologists: Apply as a designer or a creative technologist #designer #coder #multimedia #UX #VR #mobile #appdev
VERSE Challenge : Have photos and videos for a project, but don't know how to present the story seamlessly? Want to make interactive, multimedia stories without knowing how to code? Teams and individuals apply and #hackthephoto with VERSE
Innovators:  You have ideas to spare on the future of photography and storytelling but are not sure where you fit in.
Eligibility
This event is open to anyone who fits into these categories content creator, designer, technologist, innovator and/or creative. Teams and individuals are welcome to apply. Limited spaces available in each category so apply soon. Please choose only one category.

How to Register
Register on eventbrite. Registration is free but spots are limited.
Please e-mail inquries to [email protected]
For more information, visit ICP.