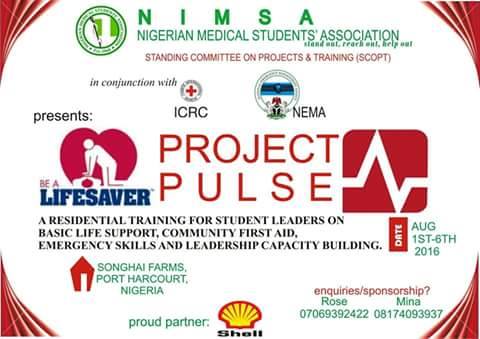 Attend the NIMSA Project Pulse 2016
Deadlie: June 28, 2016
The Nigerian Medical Students Association is calling for application for the Project Pulse. This is a residential training for students leaders on basic life support, community first aid, emergency skills and leadership capacity building. NIMSA holds it strongly that effective knowledge of first aid is key in preventing deaths. They also affirm that youth are the most efficient movement in promoting knowledge of first aid in saving he lives of victims. The training would take place at Songhai Farms, Port Harcourt, Nigeria from August 1 – 6, 2016.
Benefits
Exceptional participants will be inducted as associate members of the Nigerian Medical Student Association;
Access to high profile network and global leadership organisation;
Invitation to outreaches and events of NIMSA held in different States/Regions/Country;
Access to interest-specific/career-relevant opportuinities;
Exceptional participants may request letters of recommendation at the end of the training;
Certification form NIMSA, the International Federation of the Red Cross, and Red Crescent.
Cost
Participants are to bear the cost of travel to and from the venue;
Free transport will be provided from the Port Harcourt International Airport to the venue;
Feeding, accommodation and training materials would be provided;
Selected participants are to pay a registration fee (N3,000 for local delegates and $20 fr international delegates).
Eligibility
Participants must be between 16 – 30 years of age;
Must be a student of any higher institution in Africa. No chosen discipline/course of study would influence selection;
Must be currentlyholding or have held a leadership position in the lat 18months within a higher institution as a student;
Should have a good command of spoken and written English;
Be self motivated and have the ability to work in a team and relate with cross cultural audience;
Shoud be passionate for a safe and knowledgeable society;
Must upon return to their institution, collaborate with either the local Red Cross or Fire Service and conduct training on courses learnt;
Must commit to be present throughout the duration of the event, and commit to taking instructions and being disciplined.
Application Process
Apply via the online form.
For any question, please send an email to [email protected]